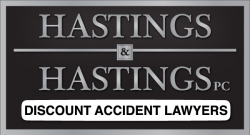 Phoenix, AZ (PRWEB) January 09, 2015
Hastings and Hastings, an Arizona discount accident lawyer with a reputation that is trusted throughout the community announces record loss of life legal representation requests leading into 2015. The firm has seen a steady growth in the number of requests with regard to legal representation for accidents that have resulted in loss of life. The firm works diligently to help family members recover losses when a loved one has experienced a wrongful death event. Exhibiting genuine compassion and understanding, the firm takes over the legal aspects of the recovery process at the request of family members so that clients can focus on caring for their family after a catastrophic event. The firm has a proven reputation with more than 30 years in the industry.
Another key aspect of the Hastings and Hastings difference is that the firm offers substantial discounts on lawyer's fees. Unlike other firms that make promises, Hastings and Hastings stands behind its discount fee structure to help ensure that clients retain a larger portion of a recovery. When a wrongful death happens unexpectedly, it is important to seek out legal representation that has a proven reputation for trust, integrity, compassion and transparency. The firm is also respected for its flat discount fees that never change. This means that the fee that is quoted at the outset of initiating a recovery is the fee that will be expected throughout the entire duration of any recovery process. This puts clients' minds at ease in knowing that there will be no costs or no surprises down the road.
Another important aspect of working with the professionals of Hastings and Hastings is that the firm guarantees that there will be no fees assessed if there is no recovery. This is called the no fee promise and can be counted upon when working with Hastings and Hastings. This is an essential aspect of the quality of service offered by the firm. Letting clients know in advance that they will not be burdened by legal expense if there is no recovery allows for a greater level of confidence going forward. In addition, Hastings and Hastings makes it clear that recovery attempt costs will always be waived if no recovery is achieved.
There are many costs associated with initiating a recovery process. When clients know in advance that they will not be responsible for these costs if a recovery is not successful, it can go a long way in providing much-needed peace of mind. In short, discounted fees equates to more money for the client. Even if the recovery process requires full litigation or extensive negotiations, clients can expect one flat discount fee. This recent announcement with regard to a loss of life legal representation request record leading into 2015 is further evidence that Hastings and Hastings has a reputation that speaks for itself.
Hastings and Hastings is a leading provider of discount personal injury legal services located in and serving the greater Phoenix Metropolitan area. This respected legal firm specializes in assisting individuals that have been the victim of serious injuries that have resulted from accidents that were not fault of their own. Hastings and Hastings is a trusted group of attorneys that deliver personalized service and guidance for injury victims throughout Phoenix and all across the state of Arizona. Hastings and Hastings is known throughout legal circles as a dedicated team of professionals and a law firm that has been representing accident victims throughout Arizona for decades. Hastings and Hastings has consistently exceeds client's expectations with regard to representing a wide array of accident related injury victims at times when it matters the most and always doing so with discount attorney's Fees.