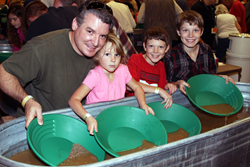 Another highlight is the ever-popular Alaska Gold Expedition prize giveaways. Two trips will be given away at each weekend show — one at the end of each day. Each trip is good for one person for two weeks and includes airfare to Nome, Alaska.
Pomona, California (PRWEB) January 11, 2015
"Gold is where you find it," and the best place to start looking is at the Gold Prospectors Association of America Gold & Treasure Shows. The first show of 2015 will be held Feb. 7-8 in Pomona, Calif. at Fairplex Pomona, 1101 W McKinley Ave. Pomona, CA 91768. Learn how to prospect and pan for real gold from experience gold prospectors.
The GPAA Gold & Treasure Shows, which are open to the public, were started decades ago by GPAA founder George Maisie to introduce people to gold prospecting and to teach them how and where to find their own gold. Besides being a lot of fun, the purpose of the gold shows is to remind everyone that gold prospecting and small-scale gold mining are still a way of life for hundreds of thousands of people across the United States. Gold mining is an integral part of American culture, heritage, our world history and our economy.
"We invite everyone to bring their friends and family to the gold shows because there's just no better place to learn how to and where to find your own gold than one of our events. Come out and experience gold panning. It's fun for all ages," said GPAA Trade Show Manager Gene Glenn.
One of the most popular attractions at the Gold & Treasure Shows is the complimentary GPAA Gold Panning Zone, where all attendees can experience gold panning using real gold.
"Step up to the troughs at the GPAA Gold Panning Zone and enjoy a hands-on gold panning lesson from an experienced gold prospector," Glenn said. "Our shows allow everyone the chance to pan for real gold, and you can keep what you find!"
Gold prospecting has become increasingly popular in the last few years with spiking gold prices. The growing interest in gold is reflected in not only the longest-airing prospecting TV show "Gold Fever," but several gold mining reality TV programs and the all new GPAA-produced show, "Gold Trails" with host Kevin Hoagland, who will be at the Pomona Gold & Treasure Show and eager to meet his new audience.
The first episode of "Gold Trails" aired Jan. 3 and is now available online at http://www.goldprospectors.org/goldtrails.
For decades, the GPAA has been traveling across the U.S. with some of the most well-known and trusted prospecting and mining equipment dealers, giving people interested in gold prospecting an opportunity to learn about the products that will benefit them the most in the field.
"There's always something new and exciting to see, with constant advanced innovations in mining equipment, accessories and supplies, Glenn said. "Dozens of mining equipment vendors and manufacturers are to ready to share their secrets of gold prospecting with you."
Another highlight is the ever-popular Alaska Gold Expedition prize giveaways. Two trips will be given away at each weekend show — one at the end of each day. Each trip is good for one person for two weeks and includes airfare to Nome, Alaska.
Winning ticket holders and others who decide to sign up for the Alaska Gold Expedition will visit the GPAA's famous Cripple River Mining Camp, a popular summer prospecting destination on the shores of the Bering Sea, 12 miles from Nome. The 2,300-acre property and camp offers the best in gold prospecting adventure.
"All Gold & Treasure Show attendees over 18 years of age have an opportunity to win this once-in-a-lifetime, unforgettable adventure to the home of Klondike Gold Rush. With admission, showgoers are given a raffle ticket for the drawing to be held at the end of each day of each show," Glenn said.
More than $15,000 worth of prizes, including metal detectors, sluice boxes and concentrators, will be given away to lucky ticket holders in the major prize raffle.
The Gold & Treasure Show in Pomona, Calif. will be hosted by local GPAA Chapters, Route 66 Gold Miners based in Brea, Calif., Hemet Valley Prospectors based in Hemet, Calif., Treasure Seekers of San Diego based in Escondido, Calif., Antelope Valley Prospectors based in Lancaster, Calif., Temecula Valley Prospectors based in Temecula, Calif. and Au Mohave Prospectors based in Hesperia, Calif.
"The shows give GPAA chapter members an opportunity to meet newcomers who are interested in gold prospecting, metal detecting and treasure hunting," Glenn said. "It's been our goal to reach out and bring in the younger generation to teach them about gold prospecting and show them the love and respect we have for the outdoors."
Local GPAA chapters are often invited by schools, Boy Scouts and Girl Scouts, other youth groups and organizers of local fairs and community events to demonstrate gold panning and share their knowledge of gold mining history and heritage.
Showgoers who feel the gold bug bite are invited to visit the GPAA booth, and join our community for treatment. There are many GPAA mining claims in the area to explore with your friends and family, or with a local GPAA Chapter after the show. Nationally, the GPAA has more than 350 mining claims across the country where members can prospect and mine for their own gold. The gold is yours to find and keep. Those who come down with really a bad case of gold fever and may want to experience at a real mining camp are also invited to stop by the GPAA booth to explore what the Lost Dutchman's Mining Association Camps has to offer. While there is no cure, LDMA mining camps are the best known remedy.
"The GPAA has always been the leader in attracting new people into the world of prospecting," said GPAA Executive Director of Operations Dominic Ricci. "Stop by our booth, and learn how easy it is to get started in finding your own gold. We can get you out on a real prospecting experience. Participate in an outing where you can learn where to prospect, use all kinds of equipment, and recover your own gold."
The 2015 GPAA Gold & Treasure Shows are open to the public. Admission is $10 for at the door for adults, or $5 for advance tickets purchased online or from a GPAA host chapter. There is no admission fee for children under 12. For more information about the 2015 GPAA Gold & Treasure Shows, go to http://www.goldandtreasureshows.com
The major prize raffle sponsored by Summit Mining & Equipment, Inc., Martin Prospecting Equipment, Royal Manufacturing, Kicking Donkey, Gold Cube, Garrett, Felix Paydirt, Keene Engineering, Inc., Gold Fox Trommels, Wilson Brothers Prospecting, Fisher Metal Detectors and the Gold Prospectors Association of America.
"For those who prefer to buy gold or jewelry rather than find it themselves, there will be plenty of opportunity for that as well," Glenn said.
To join the GPAA or Lost Dutchman's Mining Association, go to http://www.goldprospectors.org.
The GPAA is the proud producer of "Gold Trails" and publisher of "Gold Prospectors" magazine and the "Pick & Shovel Gazette."
Upcoming GPAA Gold & Treasure Shows:
(Show hours are 10 a.m. to 4 p.m. both Saturday and Sunday for all events.)
Pomona, California — Feb. 7-8
Fairplex Pomona
1101 W McKinley Ave.
Pomona, CA 91768
Mesa, Arizona — Feb. 28 to March 1
Mesa Convention Center
201 N. Center St.
Mesa, AZ 85201
Stockton, California — March 7-8
San Joaquin County Fair
1658 South Airport Way
Stockton, CA 95206
Portland, Oregon — March 28-29
Portland Expo Center
2060 N Marine Dr.
Portland, OR 97217
Boise, Idaho — April 11-12
Western Idaho Fair
5610 Glenwood St.
Boise, ID 83714
Las Vegas, Nevada — April 25-26
South Point Hotel and Casino
9777 Las Vegas Blvd. South
Las Vegas, NV 89183
Denver, Colorado — May 16-17
National Western Complex
4655 Humboldt Street
Denver, CO 80216
Charlotte, North Carolina — May 30-31
Metrolina Tradeshow Expo
7100 Statesville Road
Charlotte, NC 28269
Knoxville, Tennessee — June 6-7
Knoxville Convention Center
701 Henley St.
Knoxville, TN 37902
For advance discounted admission tickets, contact the following local GPAA chapters:
Route 66 Gold Miners
Brea, Calif.
Chapter President Kevin Tatum
Phone: (714) 642-1871
Email: kevkimtatum(at)yahoo.com
 
Hemet Valley Prospectors
Hemet, Calif.
Chapter President Arnold Shields
Phone: (951) 544-0145
Email: ajshields48A(at)yahoo.com
 
Treasure Seekers of San Diego
Escondido, Calif.
Chapter President Chester Nowicki
Phone: (760) 747-1165
Email: candhnow(at)cox.net
Antelope Valley Prospectors
Lancaster, Calif.
Chapter President Brian Woods
Phone: (661) 974-2046
Email: brwoods05(at)gmail.com
Temecula Valley Prospectors
Temecula, Calif.
Chapter President Mike Mahr
Phone: (760) 473-8456
Email: mikemahr12(at)gmail.com
 
Au Mohave Prospectors
Hesperia, Calif.
Chapter President Bob Fredlund
Email: hrfred(at)hotmail.com