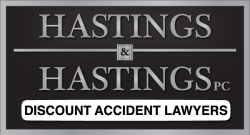 Phoenix, AZ (PRWEB) January 10, 2015
Hastings and Hastings, a Phoenix Arizona automobile accident attorney with well over 30 years of dedicated and focused legal representation under its belt announces 2014 record demand regarding legal representation for victims of accidents throughout Arizona. Statistically speaking, there has been a steady increase in the number of accidents throughout the Valley that have resulted in everything from minor injuries to catastrophic injuries and even loss of life. When these accidents occur, the residents of Arizona require an experienced and personable personal injury attorney. Hastings and Hastings is a firm that has stood the test of time when it comes to delivering discounted fees without discounting the service.
Those throughout Arizona in search of quality personal injury and automobile accident related legal services in the state consistently turn to the friendly and focused attorneys of Hastings and Hastings. The firm has a number of conveniently located offices throughout the region offering clients greater flexibility when it comes to accessing professional legal services. From automobile accidents to accidents involving motorcycles and accidents that result from pedestrians being impacted by a vehicle, Hastings and Hastings is a firm that is always ready to assist those who have been injured because of the negligence or mistakes of another individual. Legal representation following an accident can go a long way in alleviating the stress and pressures associated with being involved in an unexpected accident event.
As the incidence of serious accidents increases across the country and throughout the state of Arizona, having a lawyer with years of experience to turn to can be essential to overall peace of mind. Most importantly, by allowing a professional to handle all legal matters, those who have been injured through no fault of their own can then focus on the healing process and caring for their families. Knowing that a legal professional is working diligently to achieve a favorable recovery provides a level of confidence that would otherwise not be possible. Most importantly, Hastings and Hastings makes available discounted attorney's fees so that clients are able to keep a larger portion of a recovery.
The Hastings and Hastings difference means that each lawyer is carefully hand selected and then closely supervised to ensure the best in overall quality control. This simply means that clients can enjoy focused, dedicated and professional representation every time. Firm representatives have clearly stated that clients can expect the firm to always follow through on a no fee promise when working with Hastings and Hastings. This promise stipulates in no uncertain terms that if there is no recovery that no fees are due. This recent announcement with regard to 2014 record demand regarding legal representation for victims of accidents throughout Arizona is further evidence that Hastings and Hastings is a firm that has earned an impressive reputation over the years throughout Arizona.
Hastings and Hastings is a leading provider of discount personal injury legal services located in and serving the greater Phoenix Metropolitan area. This respected legal firm specializes in assisting individuals that have been the victim of serious injuries that have resulted from accidents that were not fault of their own. Hastings and Hastings is a trusted group of attorneys that deliver personalized service and guidance for injury victims throughout Phoenix and all across the state of Arizona. Hastings and Hastings is known throughout legal circles as a dedicated team of professionals and a law firm that has been representing accident victims throughout Arizona for decades. Hastings and Hastings has consistently exceeds client's expectations with regard to representing a wide array of accident related injury victims at times when it matters the most and always doing so with discount attorney's Fees.