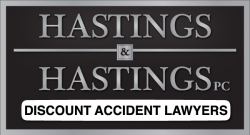 Phoenix, AZ (PRWEB) January 12, 2015
Hastings and Hastings, an Arizona accident lawyer with decades of experience in the industry reports record demand in the year ending 2014 for legal representation regarding motorcycle accidents in work zones. It is a well-known fact that motorcyclists are more susceptible to obstructions in the roadway and a wide range of other hazards. Unlike an automobile, a motorcycle is easily sent out of balance when striking and obstruction in the road. Even more alarming is that a motorcycle accident often results in a rider making contact with the road. This is an uncommon situation when it comes to automobile accidents but is quite frequent with regard to motorcycle accidents.
Because this is indeed the case, those involved in motorcycle accidents often experience catastrophic injuries and loss of life events. When a motorcycle accident occurs in an area such as a work zone the end result can be lifelong medical care and an extended period of lost wages. That is why it is so essential to work with an experienced and dedicated team of professional personal injury attorneys. Hastings and Hastings is a firm that has more than three decades of practical experience handling virtually every type of accident related injury imaginable. The firm has a widespread presence throughout the greater Phoenix metropolitan area with over 10 offices to its credit. This gives accident victims greater flexibility when wishing to contact a lawyer after an accident has occurred.
Hastings and Hastings is a firm that will fight for the client every time. At the same time, Hastings and Hastings saves clients money by offering substantial fee discounts. This combined with the fact that the firm makes a guarantee that legal representation fees will never change can go a long way in improving the chances of a recovery that clients expect and deserve. Hastings and Hastings is a firm that takes pride in saving clients money through discounted fees where service is never discounted. The firm has saved clients literally millions of dollars over the last several years alone by adhering to a strict discount fee structure.
Another important aspect of the Hastings and Hastings legal firm difference is that the firm has what is known as a no fee promise. This is a straightforward and upfront promise stating in no uncertain terms that if there is no recovery there are no fees ever due. The firm is dedicated to transparency, honor, trust and integrity. This provides peace of mind for those who have been injured through no fault of their own. Hastings and Hastings enjoys a generous amount of referral and word-of-mouth business because of its stellar reputation. This recent announcement with regard to record demand in the year ending 2014 for legal representation regarding motorcycle accidents in work zones is more proof that Hastings and Hastings has a trusted reputation throughout the Arizona community at large.
Hastings and Hastings is a leading provider of discount personal injury legal services located in and serving the greater Phoenix Metropolitan area. This respected legal firm specializes in assisting individuals that have been the victim of serious injuries that have resulted from accidents that were not fault of their own. Hastings and Hastings is a trusted group of attorneys that deliver personalized service and guidance for injury victims throughout Phoenix and all across the state of Arizona. Hastings and Hastings is known throughout legal circles as a dedicated team of professionals and a law firm that has been representing accident victims throughout Arizona for decades. Hastings and Hastings has consistently exceeds client's expectations with regard to representing a wide array of accident related injury victims at times when it matters the most and always doing so with discount attorney's Fees.