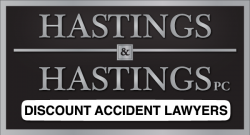 Phoenix, AZ (PRWEB) January 12, 2015
Hastings and Hastings, a car accident lawyer in Phoenix Arizona announces record pedestrian intersection accident legal representation requests in 2014. There has been a steady increase in incidents and accidents involving pedestrians at intersections throughout the greater Phoenix metropolitan area in recent years. As such, Hastings and Hastings has experienced increased demand for legal representation by accident victims who have been injured through no fault of their own. Hastings and Hastings provides representation with regard to a wide range of accident events. From motorcycle accidents to catastrophic injury type accidents and wrongful death events as well as trucker accidents and slip and fall related incidents, Hastings and Hastings handles virtually any type of injury resulting from a wide range of accidents.
This includes everything from minor fractures to loss of limb situations as well as paralysis events and serious brain injury events. In addition, burn injuries as well as road rash related injuries and disfigurement injuries are all addressed on a regular basis by the professional and dedicated team of attorneys associated with Hastings and Hastings. The firm is known as one of the most trusted and respected names in accident injury representation in the greater Phoenix metropolitan area. The firm works with accident victims throughout Arizona by way of its multiple office locations throughout the state. Clients can rest assured that there is an office conveniently located to their home or place of work. Hastings and Hastings is also respected throughout the industry for its cutting-edge discount fee structure.
Hastings and Hastings is unique in a number of ways including the fact that it makes a clear promise that the fees quoted are the fees that can be expected through the completion of any recovery effort. In short, Hastings and Hastings is a firm that exhibits honor, trust, reliability and transparency when it comes to giving clients an honest assessment of the fees that can be expected. By not changing fees and guaranteeing that if there is no recovery that there will be no legal fees, the firm has earned a reputation over the years for its dignity and honesty. With decades of experience and a long history in the community, Hastings and Hastings is a firm that takes great pride in its respected statewide reputation.
The firm proudly offers free consultations with a qualified attorney for those who have been injured due to the negligence of another individual or a company. These free consultations are always conducted with an attorney and not with a legal salesperson. While other firms often conduct consultations with salesperson or paralegal, Hastings and Hastings takes pride in making certain that each and every client meets with a qualified and experienced attorney that is focused on achieving a recovery for the client. This recent announcement with regard to record pedestrian intersection accident legal representation in 2014 is further confirmation that Hastings and Hastings is a law firm that always stands by its promises.
Hastings and Hastings is a leading provider of discount personal injury legal services located in and serving the greater Phoenix Metropolitan area. This respected legal firm specializes in assisting individuals that have been the victim of serious injuries that have resulted from accidents that were not fault of their own. Hastings and Hastings is a trusted group of attorneys that deliver personalized service and guidance for injury victims throughout Phoenix and all across the state of Arizona. Hastings and Hastings is known throughout legal circles as a dedicated team of professionals and a law firm that has been representing accident victims throughout Arizona for decades. Hastings and Hastings has consistently exceeds client's expectations with regard to representing a wide array of accident related injury victims at times when it matters the most and always doing so with discount attorney's Fees.