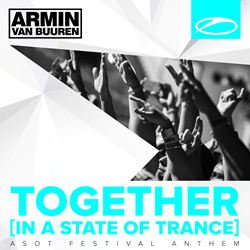 With an estimated 25 million listeners each week tuning-in from 74 countries, ASOT is broadcast to more than 150 FM, satellite and Internet radio stations worldwide.
New York, NY (PRWEB) January 12, 2015
"A State Of Trance" (ASOT) is the global weekly radio show devoted to dance music, programmed and hosted by the world's biggest DJ and producer, Armin van Buuren. The ASOT brand is a radio show, a live event and a state-of-mind. To celebrate the impending 700th episode of the ASOT radio show and the ASOT Festival tour, Armin van Buuren releases the official anthem, "Together (In A State Of Trance)." The ASOT Festival will span multiple continents and be the largest and most ambitious ASOT celebration in history.
The celebration weekend of ASOT episode #700 will take place in Sydney, Australia on February 6th, and Melbourne on February 7th. During those shows, the world's leading trance DJs will take the stage in memorable live performances. The Sydney show will be broadcast live around the world on the A State Of Trance radio show. On February 21st, Armin will proudly host the only European performance of A State Of Trance Festival in Utrecht, the Netherlands, and on April 11th, the show will head to Buenos Aires, Argentina. There will also be an ASOT Festival stage at this year's Ultra Music Festival in Miami on March 29th during WMC/Miami Music Week. More dates will be announced soon.
With a remix package including six hand-selected reworks, "Together (In A State Of Trance)" is available now on all digital download and streaming services. Armin van Buuren purposefully chose remixes that would cover the entire spectrum of trance music. The single is given additional dimension in edits by Mark Sherry, Bryan Kearney, David Gravell, Alexander Popov, Faruk Sabanci, and Skypatrol & Reorder.
For the 700th episode of ASOT, Armin will be handing over the microphone and the selection of tracks to his listeners. Listeners will be able to submit a recording of their voice and a song request through http://bit.ly/asot700together. Together, Armin and his fans will decide which tracks will be played during the actual 700th episode to be aired on January 29th, 2015.
iTunes: http://smarturl.it/Together_iT
Spotify: http://bit.ly/Together_SP
Armada shop: http://bit.ly/TIASOTSigned
YouTube: http://youtu.be/bE7NueplEFA
Armin van Buuren's radio show "A State of Trance" (ASOT) has been going strong since 2001. With an estimated 25 million listeners tuning-in from more than 74 countries, ASOT is broadcast on over 150 FM, satellite and Internet radio stations each week. This year, the show's Spotify playlist also surpassed 200,000 followers, making it the second most-streamed artist playlist on Spotify, second only to the Spotify playlist of One Direction.
For more information on ARMIN VAN BUUREN and Armada Music, contact EMILY TAN Media Relations (U.S./North America) +1(917) 318-3758, EmilyEmilyTan(at)aol(dot)com, and visit http://www.ARMINvanBuuren.com. Follow EMILY TAN Media Relations on Twitter @EmilyEmilyTan.