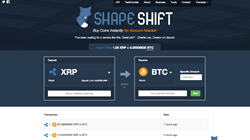 Adding Ripple to ShapeShift makes it even easier and faster for individuals to acquire the altcurrency.
Geneva, Canton (PRWEB) January 15, 2015
ShapeShift.io has integrated one of the web's most popular digital currencies, Ripple, into its instant exchange platform. Customers anywhere in the world can now buy or sell Ripple instantly with Bitcoin or over a dozen other leading cryptocurrencies with ShapeShift.io.
There is no signup process nor account required.
As the digital currency ecosystem continues to rapidly grow, integration between platforms is accelerating. ShapeShift.io, which launched in August 2014, has risen quickly as the most convenient way to buy or sell the leading digital assets. The site has integrated over a dozen currencies to date, enabling instant conversion between all of them directly.
"Customers were increasingly asking us to add Ripple and we felt it would be a great addition for the New Year," remarked Emily, ShapeShift's Head of Marketing.
Ripple is an Internet protocol that interconnects the world's desperate financial networks to securely transfer funds in any currency in real time. Its native digital currency, XRP, facilitates cross-currency trades.
"Cryptocurrency will succeed to the extent that it becomes easy, fast, and secure for users," explained ShapeShift CEO Beorn Gonthier, "Adding Ripple to ShapeShift makes it even easier and faster for individuals to acquire the altcurrency."
Critically, ShapeShift's model has set a new standard for security and consumer protection, by offering conversion services without the need for user accounts or deposits. After the cryptocurrency exchange MintPal collapsed in October, losing user funds, traders have increasingly realized the risk of leaving money on deposit with any 3rd party. ShapeShift's innovation is to operate more like a vending machine, in which a customer instantly deposits one coin and receives another one, with no significant period of trust or custodianship required.
Interested websites can now also utilize the ShapeShift API to instantly accept payment in XRP, whereupon it will be instantly converted to Bitcoin, or any other digital asset in which they prefer to hold value.
Ripple's value has soared over the past couple months, reaching a market cap of over $700 million.
About ShapeShift.io
ShapeShift formed in Summer 2014 to provide instant Bitcoin and altcoin conversion. The platform (available in both web and API flavors) represents the fastest, most efficient way to convert between coins within the Bitcoin ecosystem. It does not require the user to have an account.
The Swiss company has a strict "No Fiat" policy, meaning it does not use banks or political currencies anywhere in its operations. For more information visit http://www.shapeshift.io.