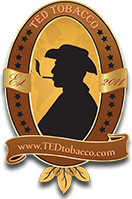 Orlando, Florida (PRWEB) January 20, 2015
TED Tobacco, a leading distributor of wholesale tobacco and other products, announces the launch of their new e-commerce website and online store (http://www.TEDTobacco.com). The website and online catalog was designed specifically with consumers in mind, and makes their entire line of products available for retail purchase, including roll-your-own (RYO) tobacco, tubes, hookah tobacco (shisha), cigars, and more.
"We at TED are extremely excited about this next chapter in our successful evolution," said Bob Fuller, President of TED Tobacco. "It's been a wild ride, and after almost two years in development, our best-in-class website and online store finally allows us to reach customers and tobacco enthusiasts nationally, and we are actively pursuing distribution licenses throughout the United States."
TED has also launched multiple social media campaigns in order to connect with retail consumers and better understand their needs. By utilizing a variety of platforms including Facebook, Twitter, and others, TED Tobacco will be able to tailor their online inventory based on the needs of its clients.
"It's been well documented that interacting with customers through social media is an integral tenet of today's digital business culture," Fuller said. "TED Tobacco will maintain our competitive edge through our market-dominating online social media presence, while continuing to foster solid relationships with our followers."
The new website includes links to TED Tobacco's social media pages where company updates and announcements are posted. Customers are encouraged to connect with the company and participate in the buzz.
About TED Tobacco
TED Tobacco is a privately held wholesale distribution company specializing in tobacco-related products, and servicing retailers throughout Florida and the United States. To better serve its customers' needs, TED Tobacco is constantly expanding our inventory to include a wide variety of nutrition, gifts, accessories, aroma, and other goods. TED's corporate offices, primary warehouse and distribution center are located in beautiful Ormond Beach, Florida, strategically located on both the I-95 and I-4 corridors.