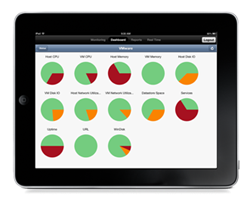 As IT has been recognized as the engine that runs all companies, more people in different roles want to understand and be aware of how IT systems and applications are performing,..
Braintree, MA (PRWEB) January 13, 2015
Heroix, developer of application performance and network monitoring software, announced access to IT performance data for managers and executives through new risk management and security capabilities for Heroix Longitude.
This new capability enables rapid management access to information on IT performance, safeguards the software's monitoring and alert settings, and improves IT team productivity.
Because managers need information on IT infrastructure and application health, Longitude's new look, but don't touch feature allows them to quickly see what is happening through their own read-only role in the Heroix monitoring solution. Longitude is an easy-to-use, affordable monitoring solution that companies use to track the health of their physical and virtual IT infrastructure: multiple operating systems, web servers, databases, messaging and networks.
Heroix added the read-only access role to Longitude to improve an organization's ability to share vital IT system and application information with more individuals and groups throughout the company, while reducing operational risks that could arise if the software's settings were inappropriately changed.
"As IT has been recognized as the engine that runs all companies, more people in different roles want to understand and be aware of how IT systems and applications are performing," noted Rick Lane, CEO, Heroix. "However, not everyone in the company needs the ability to change what is being monitored or when alerts should occur."
The look, but don't touch capability provides easy-to-access information to users granted entry into Longitude, while eliminating the risk of them making changes to the monitoring software that could have business-stopping implications.
"If problems occur after a user with inappropriate access turned off monitoring or alerts, the people who could remedy the problem quickly wouldn't even know about it, leading to significant operational and financial consequences," Lane explained. "For example, if a major retailer's web site was experiencing performance problems and no one at the company knew, hundreds of thousands of dollars in sales could be lost in just a few short hours."
Those with a read-only role are able to view critical alerts and dashboards that show performance and availability, as well as create and run their own reports or view reports that have been automatically generated for their consumption. The read-only role helps administrators grant easy access to Longitude's reports for business managers and other executives.
All editions of Heroix Longitude are available on tablets and smartphones, providing on-the-go access to information about critical applications, servers, networks, and virtualized 24x7 environments. Heroix designed its own mobile support capability specifically for Longitude, insuring that it avoids common third-party app problems such as instability or poor coding.
For more information and resources on application and network monitoring, visit Heroix's online resource library.
Pricing and Availability
Longitude 9.0 is available now. Please visit Heroix or call 800-229-6500 or 781-848-1701. Heroix also offers a 14 day free trial of all Longitude Editions. Pricing begins at $399.
About Heroix
Heroix Longitude is a proven, self-service applications, network performance, and virtualization monitoring solution. It delivers immediate, comprehensive performance information, at an affordable price, to solve multiple monitoring challenges in companies of all sizes. The agentless software is the fastest and easiest-to-use application and network monitoring software available. Longitude monitors hundreds of vital performance metrics, alerts you to problems, takes corrective actions, and creates reports for everyone, from executives to IT staff. There is no lengthy installation or learning curve; non-IT staff can purchase Longitude and be monitoring within 10 minutes.
Heroix, Heroix Longitude, RoboMon, Heroix eQ, and their corresponding logos are registered trademarks of Heroix. All other company and product names mentioned are used only for identification purposes and may be trademarks or registered trademarks of their respective companies.