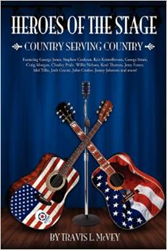 The country music industry has long been know for its support of the military community and I thought about this I realized their story had to be told
Nashville, Tennessee (PRWEB) January 10, 2015
Travis McVey, decorated veteran and successful entrepreneur, and author of the book Heroes of the Stage, Country Serving Country will be the featured Spotlight Honoree at Larry Broughton's Speakeasy Dinner on January 14, 2015.
Where: Georgian Hotel, 1415 Ocean Avenue, Santa Monica, CA 90401
When: January 14, 2015 at 6:00 pm
Cost: $200 per person; Registration: http://www.yoogozi.com/dinnerseries
Travis McVey is a U.S. Marine Corps veteran who proudly served as a Presidential Honor Guard from 1989-1992. Since serving in the military, McVey has made supporting veterans a priority in his business pursuits and his life. His successful spirits company, Heroes Vodka, makes a contribution to their giveback partner, AMVET for every bottle of vodka sold.
In addition, McVey travels the country speaking about his passion to serve our veterans and how his military experience has shaped his life. It's part of what inspired him to write Heroes of the Stage, Country Serving Country. The country music industry has long been known for its support of the military community and when McVey began to realize how many country music stars had spent time in active duty he wanted to tell those stories. George Straight, Willie Nelson and Mel Tillis are among those profiled in the book. As a fan himself, he understood how powerful and appealing these stories of their military service would be to fans. Along with his other pursuits he is the official spokesperson for the Tennessee's chapter of the National Veteran-Owned Business Association (NaVOBA) and the BUY VETERAN Campaign.
About Travis McVey
As a veteran U.S. Marine and Marine Guard, Travis McVey served under President George H.W. Bush and is the author of the book Heroes of the Stage. In the book, he profiles Country music artists who have served in the military and reveals the impact it has had on their careers, music and personal lives (http://www.heroesofthestage.com).
Travis is also a sought-after speaker and media presence. He has been featured on NBC News, Bloomberg, Vetrepreneur magazine, The Tennessean, Nashville Business Journal, Navy Times, Marine Corps Times, Fox News Nashville, TNN, CBS News and E!'s "Chelsea Lately."
Speaking engagements include the Syracuse University Entrepreneurship Bootcamp for Veterans with Disabilities (EBV), The American Veterans National Convention (Memphis), the National Veteran-Owned Business Association Veteran Business Convention (St. Louis), the American Veterans (AMVETS) National Executive Committee Conference (Arlington), the American Veterans (AMVETS) California State Convention, Larry Broughton's Entrepreneur Uprising Event (Los Angeles), the Global War On Terror Wall Of Remembrance Event (Nashville) and the Nashville Entrepreneur Center.