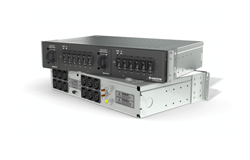 We are pleased to expand the Transtector Systems AC panel series to our global customers
(PRWEB) January 13, 2015
Transtector's AC Edge 240 is a compact secondary power distribution panel that features two 240V, single phase, 60A input buses. Each input utilizes dedicated neutrals, making the panel ideal for use in international markets that require 240 VAC capabilities. The compact 2RU (rack unit) panel accommodates both 19-inch and 23-inch equipment racks, and provides power for a wide range of 240V applications within wireless, wireline, data, and other mission-critical communications networks.
The AC Edge 240 is designed to significantly reduce field installation complexities, as well as labor and material costs, through simple accessibility of temporary AC power taps. This design allows each unit to be powered, tested, and assembled prior to installation in the field.
"We are pleased to expand the Transtector Systems AC panel series to our global customers," said Anand Krishna, Vice President of Business Development, Smiths Power. "The AC Edge's innovative design addresses industry demand for a small footprint device that also emphasizes ease of installation. The result is a significant cost-saving benefit for our customers."
To support global requirements of today's high-power networks, the Transtector AC Edge is IEC CE60950 compliant. The panel is available today through Transtector and its international partners and representatives.