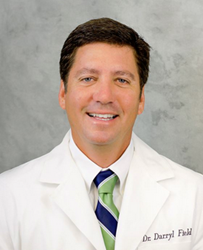 Jacksonville, FL (PRWEB) January 09, 2015
Dr. Darryl A. Field, a periodontist in Jacksonville, FL, is dedicating himself to serving the community through a new study club for hygienists. These professionals are an important part of patients' dental care, and Dr. Field wants them to have the best grasp possible on periodontics, which is the branch of dentistry that specializes in the diagnosis and treatment of periodontal disease and dental implant placement. Hygienists must know how to properly perform their part of gum disease treatments, and they must know when they can help their patients most by recommending they see a specialist. Dr. Field opened the new study club in November, and was encouraged by a strong attendance. They have already discussed the new laser dentistry technique called the LANAP® protocol.
Dr. Field is organizing four meetings per year for the hygienists in his new study club. Each meeting will feature a speaker who presents two hours of important information. Not only will this format help the hygienists in their work, it also counts toward their annual continuing education requirements. The first meeting was a success, and as word spreads, Dr. Field is hopeful that it will continue to grow. As a Jacksonville, FL periodontist, Dr. Field is happy to provide hygienists his support through the study club.
At the meeting in November, hygienists were educated about the latest news in laser dentistry. The first FDA-cleared laser treatment for gum disease is available in Jacksonville, and it is important that hygienists understand the procedure so they can educate patients. This treatment, called the LANAP® protocol, is a scalpel-free, suture-free way to treat gum disease. Laser dentistry removes the harmful bacteria of gum disease and it promotes healing by stimulating healthy gum tissue to grow.
Those in Jacksonville, FL who are looking for a periodontist are invited to visit Dr. Field's website or call his office. Dr. Field believes that education empowers people, he is always happy to answer questions and he provides educational material for his patients online. As part of his quest to help the community, he also encourages interested hygienists to join his new study club.
About the Doctor
Darryl A. Field, DDS, PA, is a periodontist offering personalized dental care to patients in Jacksonville, FL since 1997 Dr. Field received his Doctor of Dental Degree and his certificate in Periodontics from LSU School of Dentistry. He is part of one percent of dental professionals providing the first FDA cleared laser procedure for gum disease and periodontal treatment. To learn more about Dr. Field and his dental services visit his website at http://www.jaxdentalhealth.com and call 904-201-8293.