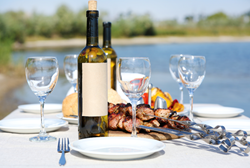 Foodie Event in one of America's Happiest Seaside Towns
Beaufort, South Carolina (PRWEB) January 10, 2015
Food lovers in Beaufort, South Carolina can feast on some of the finest cuisine the Lowcountry has to offer at the 2015 Beaufort Restaurant Week being held January 25, 12am through January 31, 12pm. Restaurants throughout the region including Beaufort, Port Royal, the Sea Islands South Carolina, including Fripp Island, will be offering special priced menus throughout the week to entice folks to explore their palates at the many varieties of food options available here. Whether it's visiting an "old favorite" or exploring new territory, the choices found range from the most exquisite seafood dishes to exotic options including Thai, Greek and International creations at some outstanding prices! This scenic "paradise" is also ideal when looking for true southern inspired real estate and Beaufort should be at the top of the list in searching for South Carolina destinations.
For only $25, folks can experience some of the finest food offerings in this beautiful and historic region full of heritage and culture while enjoying the friendly southern hospitality this area has to offer. Dining in the Sea Islands South Carolina along-side rare bird species and amongst the moss-draped oaks and native palmetto trees, this majestic Lowcountry landscape will enhance the overall experience for food enthusiasts who visit the restaurant offerings here. With over 141 restaurants in Beaufort, there are multiple choices available. Here are several options to consider during the 2015 Beaufort Restaurant Week:
11TH STREET DOCKSIDE located on Battery Creek in the Old Village of Port Royal offers some amazing seafood, fried green tomatoes, steaks, grits and even pecan pie.
ATHENIAN GARDENS located in Beaufort has a variety of delicious home-made Greek, American and International food. Beer and wine selections and is located across the street from Beaufort Memorial Hospital.
BACK PORCH GRILL at the Port Royal Landing Marina on the Beaufort River is casual dining with a scenic view. Offering great sandwiches, fried seafood and scrumptious salads a must try.
BELLA LUNA CAFE located on St. Helena Island features classic Italian cuisine incorporating local produce and seafood.
BREAKWATER RESTAURANT & BAR located in Beaufort offers a twist of "New Southern Cuisine" by combining the past with the present. Offering a lighter and fresher version of the traditional southern fare through the efforts of Chef Land and Chef Shaw, this place is a must to visit for a great meal.
BRICKS ON BOUNDARY also found in Beaufort features an eclectic mix of pub fare, Lowcountry favorites and classic family style dishes to please everyone.
BLUFFTON OYSTER COMPANY in Bluffton, SC specializes in fresh local seafood and is known for their fresh, local oysters, clams, mussels, shrimp, scallops, fish filets, soft shell crabs and live blue crabs.
EMILY'S RESTAURANT in Beaufort is a unique dining experience featuring a massive tapas selection. The food is exquisite and reasonably priced.
FOOLISH FROG while visiting Fripp Island try to experience the "folky" yet charming place where the "Frogmore Burger" ranks one of the best in the Lowcountry!
GRIFFIN MARKET located in the historic region of Beaufort offers Italian dishes with a twist ranging from the traditional to exotic combinations using local and fresh ingredients.
MIZU HIBACHI & SUSHI located in Port Royal offers the best Japanese Hibachi Grill and Sushi with Happy Hour Specials Tuesday and Wednesday.
MOONDOGGIES CAFE AND GRILL is one of Port Royal's best kept secrets and offers amazing local seafood and fresh hand cut steaks. The fried pickles are a must.
PAPAYA THAI CUISINE & SUSHI BAR in Beaufort offers fresh and delicious Thai dishes and a full service sushi bar.
SALTUS RIVER GRILL is an upbeat seafood grill located in the heart of downtown overlooking the freshly revived Waterfront Park & the Beaufort River. Offering fresh fish caught by local fisherman prepared with exotic flairs or simply grilled to perfection, this happening spot should definitely be on the list.
SWEETGRASS RESTAURANT is a beach front bistro located at the Dataw Island Marina and can be reached by either car or boat. \
TRADITIONS on Parris Island is a fine dining establishment with a passion for quality ingredients, vibrant flavors and exceptional service.
THE OLD BULL TAVERN in downtown Beaufort offers a memorable dining experience with a tapas type menu featuring a variety of unique and tasty items. The anchovies with a mint pistachio pesto, lamb meatballs and the flatbread and pizza are favorites. Also known as a destination "watering hole" this gastro pub is ranked #1 of 141 restaurants in Beaufort, SC on Trip Advisor.
WREN Wren located in Beaufort offers unique microbrews, wines and cocktails to accompany its unique bistro menu. From shellfish bisque to shrimp-n-chips, the variety offered here will entice even the most discerning pallet.
YES! THAI INDEED in Beaufort offers authentic Thai food with a flare in a casual, contemporary setting.
WINED IT UP can also be found in Beaufort and ranked #3 of 141 restaurants featured on Trip Advisor. This wine bar and specialty deli features 20 different wines, craft beer and a wide array of delicious tapas style dinner menu with choices such as soft shell crab, pot stickers and braised rabbit.
While visiting some of these fine South Carolina destinations on the Sea Islands South Carolina, why not take a look at southern inspired real estate found here? One best master planned community home shoppers may want to explore is Coosaw Point on Lady's Island. Check out the collection of new cottage homes built by Kovnanian Homes. Imagine having the luxury of living near a fresh seafood village and enjoying all the amenities of a resort style community, Coosaw Point offers it all.
Considered one of "America's Happiest Seaside Towns", this debt free coastal development has ocean access bordering the Intracoastal Waterway and offers Lowcountry cottage homes only 5 minutes away from the historic town of Beaufort. Coosaw Point even has a private community boat dock leading to the St. Helena Sound and Beaufort River with easy access to Hilton Head Island and Savannah for a splendid day trip excursion. Fishing and kayaking are also popular with residents here. In addition to the splendor of calling this magnificent place home, residents enjoy sprawling greenery and oak trees decorated with Spanish moss as they enjoy the great outdoors. Additionally, the amenities offered here complete the package:
11,000 Square Foot River Clubhouse
Resort-style Outdoor Swimming Pool
Fitness Center
Two Lighted Tennis Courts
Community Parks & Dog Park
Community Boat Dock and Boat Ramp with 7 slips
Lakeside Pavilion with Outdoor Fireplace
Crab Shack for community events
Coosaw Point is a pristine South Carolina coastal community located on Lady's Island where both families and retirees thrive on the southern charm offered here. Staying healthy while enjoying the fresh fish available here is no problem as there is an 11,000 square foot River Clubhouse featuring a resort-style swimming pool, fitness center and 2 lighted tennis courts. This pet friendly community also has a dog park and a playground for the kids. Locals gather at the crab shack and lakeside pavilion to socialize and enjoy the outdoor fireplace found here. With Beaufort, Port Royal and the Sea Islands including Fripp Island nearby, the possibilities of enjoying the natural beauty of this area are endless.
Approximately 100 homes have been built to date of the 400 Coosaw Point homes planned. Cottage homes for sale at Coosaw Point are in the mid $400k's and lots for sale at Coosaw Point are available beginning in the $50k's. HOA fees are $1,950 per year.
Take a peek at Coosaw Point homes
Don't miss the 2015 Beaufort Restaurant Week at one of the most popular South Carolina destinations. See a true example of southern inspired real estate, by touring Coosaw Point. Call Coosaw Point direct at 843.522.0041 for an information package and to schedule at tour.
About Real Estate Scorecard:
Real Estate Scorecard writes unbiased real estate reviews providing in-depth information about popular gated communities in Florida, Georgia, North Carolina, South Carolina and Tennessee, all in an effort to help people discover where to retire in the Southeast.
Website: http://realestatescorecard.com