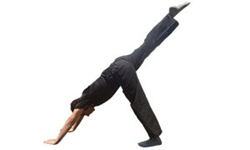 "Each patient is a book, with their own postural and emotional problems. The Posture Clinical Fellowship is a guided trip to these beautiful books that need our help." Dr. Joe Rosario
Astoria, NY (PRWEB) January 13, 2015
Postural problems can cause a huge variety of problems including such things as: lower back pain, facet joint and ligament strain, slipped discs, headaches, tendonitis, trapped nerves, knee pain and more.
And posture affects not only the musculoskeletal system and organs; it has a large impact on the mental and emotional state of the individual.
Being able to evaluate and correct a patient's postural balance and gait means having the potential to treat an enormous number of illnesses, pains and feelings.
In order to help physical therapists diagnose and correct posture-related problems in the patients, Hands-On Seminars will be presenting "Certification in Postural Balance" with Dr. Joe Rosario.
Dr. Rosario, PT., Ph.D., MCPT has been awarded multiple degrees including doctorates in Naturopathy and Psychobiology and Masters Degrees in Acupuncture and Physical Therapy. He is also the author of numerous books and scientific articles on postural assessment and balance and the various physical and emotional problems created by poor gait and posture.
Usually, the techniques that aim to treat posture only focus on one aspect of the problem. Some techniques just strengthen the weak agonist and stretch the shortened antagonist. However, muscles seldom work with just reductionist biomechanics. In order to maintain the posture they work together in a chain of small and continuous contractions. Some techniques that work purely with muscle chains forget that muscles rely on fascia to do their postural job. Some techniques that use fascial treatment forget the essential role of muscle contraction in the physiology of postural maintenance.
By the end of this course students will learn the variety of techniques needed to correct and stabilize posture in their patients.
Students will:
Understand the diagnosis and treatment of Myofascial Chains Dysfunction applied to posture. Emphasis will be given to the Straight Chains.
Demonstrate how to evaluate the posture properly and identify postural faults and patterns.
Demonstrate how to diagnostically choose the proper chain to work with.
Demonstrate how to apply myofascial maneuvers to treat the chains.
Demonstrate how to use vertebral manipulation in order to help adjust the posture
Demonstrate how to treat the chains with postural exercises.
Demonstrate how to create their own Postural Treatment Protocols, which include Vertebral Manipulation, Myofascial Exercises, Chains Exercises, and Proprioceptive Training.
Demonstrate how to effectively treat acute and chronic pain problems.
Demonstrate the techniques immediately after the seminar.
Seminar will be held in:
Astoria, New York
January 23rdth to 26th, 2015
8:30AM to 5:30PM
Hands-On Seminars, Inc. (HOS) is the leading international continuing education organization in the world, awarded the Lecture & Seminars Award as the best Lecture and Seminar Company from the Lectures and Seminars Bureau over the past two years. Their purpose is to provide the best quality Manual Therapy seminars at an affordable cost. For further information, please contact: Alexandra Rosner at 888-767-5003 or info(at)handsonseminars(dot)com
###