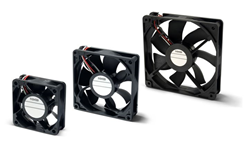 We have added three new sizes to this popular NMB Fan series.
Chatsworth, CA (PRWEB) January 16, 2015
NMB Technologies Corporation, a Minebea Group Company, introduces three new sizes to the NMB DC Axial SB Cooling Fan Series. This popular fan series now covers the 60mmX20mm requirement with the new 06020SA fan. It also includes the 08020SA (80mmX20mm) and the larger 11925SA (119mmX25mm) cooling fan. These three new cooling fans reflect NMB's new part numbering system.
These new sizes are offered in both 12 and 24 volts, and range in CFM from 12.7 to 128.1 for the larger size.
The established SB Series currently offers a 2410SB (60mmX25mm), a 3110SB (80mmX25mm) and a 3610SB (92mmX25mm). The new sizes complement very well this series and offer added variety to the office equipment, medical equipment and LED lighting designer who requires a wide range of cooling fans for complete thermal control.
These highly rated fans are now offered exclusively through our global authorized distributor, Digi-Key.
About NMB - NMB, a Minebea Group Company, is the world's largest manufacturer of miniature precision ball bearings and a volume leader in the design and manufacturing of precision electro-mechanical components, including cooling fans and blowers, precision small motors and mechanical bearing assemblies, as well as a total solutions supplier of backlight and LED modules. NMB products can be found in the personal computing, networking, telecommunications, home entertainment, home electronics, and automotive, medical and industrial markets. For more information on NMB Technologies Corporation visit: http://www.nmbtc.com or contact us directly.