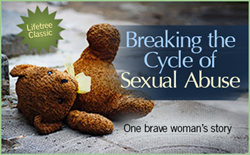 This brave woman's story puts sexual abuse out on the table for discussion. We'll consider why the cycle of abuse in families is so difficult to break—and how those who've suffered childhood sexual abuse can find healing. -- Craig Cable, National Director
Loveland, Colorado (PRWEB) January 12, 2015
Breaking the cycle of childhood sexual abuse will be discussed at Lifetree Cafés around the country the week of January 18.
The program, titled "Breaking the Cycle of Sexual Abuse: One brave woman's story," features a filmed woman who candidly shares her story of suffering childhood sexual abuse.
"It began with my dad," the woman says. "We had a great relationship until I was about 8-years-old and one evening it changed."
Lifetree Café national director Craig Cable explained while the episode features a difficult topic, it is important to be able to discuss.
"This brave woman's story puts sexual abuse out on the table for discussion," said Cable. "We'll consider why the cycle of abuse in families is so difficult to break—and how those who've suffered childhood sexual abuse can find healing."
Lifetree Café is a national network of venues where people gather for conversation about life and faith in a casual coffeehouse-type setting.
Lifetree Café locations and times may be found at lifetreecafe.com.
Watch video preview: http://lifetreecafe.com/#/topics/011115.