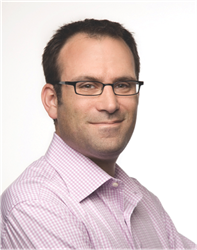 "There is a huge need for an effective, transparent mechanism that brings technology buyers and sellers together in a mutually beneficial environment" - Noah Elkin
New York, NY (PRWEB) January 12, 2015
Industry Index (http://www.industryindex.com), the ratings and reviews platform for digital media technologies, today announced the appointment of Noah Elkin, Ph.D., to the newly created role of Chief Product Officer. A 15+-year digital industry veteran and respected authority on marketing trends, his career has revolved around the intersection of technology, marketing and content. At Industry Index, Elkin will join the executive team and oversee product strategy, marketing and development of the company's research and content offerings.
"Our goal is to cement Industry Index as the go-to resource for shared knowledge, verified ratings and reviews and real industry insights on the digital advertising marketplace. Bringing on someone of Noah's caliber to manage our product offerings and our marketing programs will help us accelerate those goals," said Founder and CEO Gayle Meyers. "I am delighted Noah is joining the Industry Index team."
Elkin joins Industry Index from eMarketer, where he was Executive Editor and Chief Evangelist. During his tenure at eMarketer, Elkin helped set the company's editorial strategy, wrote numerous reports and delivered dozens of webinars and in-person presentations that helped clients understand the latest digital marketing, media and commerce trends and the implications for their business. He also co-authored Mobile Marketing: An Hour a Day (published by Wiley/Sybex, December 2012), the comprehensive, step-by-step guide for building a brand and business with mobile. Prior to eMarketer, Elkin served as Managing Partner at UK-based digital marketing agency Steak and Vice President of Corporate Strategy for iCrossing.
"I've spent the better part of my career helping clients make sense of fragmented markets. That's why I'm so excited about the opportunity we have with the Industry Index. There is a huge need for an effective, transparent mechanism that brings technology buyers and sellers together in a mutually beneficial environment," said Elkin. "The assets we can provide through the Industry Index platform will help both parties navigate a rapidly—and constantly—evolving landscape."
About Industry Index
The only searchable database and ratings platform focused on measuring innovation, the Industry Index enables digital marketers to easily find and select best-of-breed technology solutions. By showcasing verified expert ratings and proprietary research on digital innovation, the Industry Index empowers a community of buyers and sellers to focus on what matters—moving business forward. Find out more at http://www.industryindex.com.
© 2015 Industry Index. All Rights Reserved.