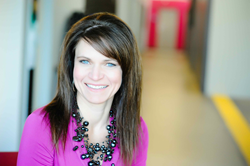 Kristin will bring passion and expertise to Big Brothers Big Sisters of Colorado, an organization that is doing tremendous work on behalf of kids facing adversity in our area. - Paul A. Larkins, president and CEO, SquareTwo Financial
Denver, CO. (PRWEB) January 12, 2015
SquareTwo Financial, a leader in the $100 billion asset management and recovery industry, today announced that Kristin A. Dickey, senior vice president of human resources and organizational development, has been named to the board of directors of Big Brothers Big Sisters of Colorado, Inc.
"Kristin will bring passion and expertise to Big Brothers Big Sisters of Colorado, an organization that is doing tremendous work on behalf of kids facing adversity in our area," said Paul A. Larkins, president and CEO of SquareTwo Financial. "She is also a strong advocate for the program's Fort Logan Impact site-based mentoring at Fort Logan Elementary School, and will continue to guide our corporate efforts to support children at that school."
SquareTwo Financial provides, on an ongoing basis, volunteer and financial support to the Big Brothers Big Sisters Fort Logan Elementary program through donations of back-to-school supplies and backpacks, a "SquareTwo Bucks" program teaching financial skills, and various holiday parties.
"I am honored to serve on the board of Big Brothers Big Sisters of Colorado," Dickey said. "It is personally satisfying to work with this organization, which is doing so much to provide these children with strong, enduring, and life-changing relationships with adult volunteer mentors."
For more information about Big Brothers Big Sisters of Colorado, visit http://www.biglittlecolorado.org.
About SquareTwo Financial:
SquareTwo Financial is a leader in the $100 billion asset recovery and management industry. Through its award-winning technology, industry-leading security and compliance practices, SquareTwo Financial creates a more effective way for companies and consumers to resolve their debt commitments. Lenders in the Fortune 1000 trust SquareTwo Financial to manage their debt portfolios. In all of its recovery efforts, SquareTwo Financial is committed to delivering the FAIR SQUARE PROMISE, the company's pledge to treat each Customer with fairness and respect. SquareTwo Financial is based in Denver, Colo. Visit http://www.squaretwofinancial.com for more information.