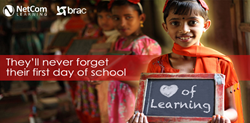 New York, New York (PRWEB) January 13, 2015
In 2012, NetCom Learning, in conjunction with BRAC USA, a non-profit development organization, created the Love of Learning program to help young people in disadvantaged countries receive quality education. The program which was created by Russell Sarder, CEO of NetCom Learning, as part of his nationwide Learning Movement, provided a year's worth of education to more than 200 students in 2014. NetCom Learning's mission is to promote the values of lifelong learning and through the Love of Learning program, that purpose extends beyond the walls of the company's classrooms.
"We are committed to promoting education here in the United States and around the world through our technology and business classes and now in schooling for young children in areas of the world where they may never have the opportunity to learn," said Russell Sarder, CEO of NetCom Learning.
"When students take their technology training with us, they receive the education they need to advance in life and they also help provide schooling for children in impoverished areas around the world," said Sarder.
The Love of Learning program is an outgrowth of Russell Sarder's passion for learning and a recognition of the difficulty in obtaining schooling in areas of the world such as Bangladesh, where he grew up. The goal of the program is to provide education to as many young people in poor and disadvantaged areas of the world as possible and to create new preprimary schools for children to learn.. The corporate social responsibility initiative is a partnership with BRAC, an international organization tasked with creating opportunities for individuals in an effort to end poverty on a worldwide basis. It currently operates in eleven countries and has helped more than 126 million people to date. BRAC USA is a US affiliate created to advance and support BRAC's global mission.
For more information on NetCom Learning's Love of Learning program, visit: http://mkt.netcomlearning.com/LoveofLearning.html
Benefits of taking technical training with NetCom Learning
NetCom Learning is the most trusted name in both business and IT training and offers top notch instructors with an average of 16 years of experience and vendor approved coursework offering certification preparation for a variety of vendor certifications. NetCom Learning instructors routinely achieve high ratings from their students and possess an average of 20.5 years of experience and a cumulative average of more than 10,500 years' experience in the field of their expertise. Instructors carry an average instructor evaluation of 8.6 out of 9, one of the highest instructor evaluations in the industry. The high quality of training has resulted in over 2,150 testimonials and a 96% customer satisfaction rate with those customers indicating they would recommend NetCom Learning to others.
About NetCom Learning
NetCom Learning is an innovative leader in IT, business and executive training to companies, individuals, and government agencies. Since its inception in 1998, NetCom Learning has trained over 71 percent of the Fortune 100, serviced over 50,000 business customers, and advanced the skills of more than 81,000 professionals through hands-on, expert-led training, with the organization maintaining an average instructor evaluation score of 8.6 out of 9. NetCom Learning was recognized by Microsoft Corporation as its Worldwide Training Partner of the Year and named thrice to Inc. Magazine's list of fastest growing private companies in America. The organization was also recently named to the 2012 Top 20 IT Training Companies by TrainingIndustry.com and was named "Company of the Year" by the American Business Awards.
Like us on Facebook! https://www.facebook.com/netcomlearning.
Follow us on LinkedIn: http://www.linkedin.com/company/netcom-learning
The purpose of NetCom Learning is to promote the values of lifelong learning
Call us toll-free at 1-888-563-8266.
Contact:Marketing Manager
NetCom Learning
20 West 33rd Street
4th Floor
New York, NY 10001
Phone: (212) 629-7265
Fax: (212) 947-5462
marketing(at)netcomlearning(dot)com
NetCom Learning: Passionate about Learning™