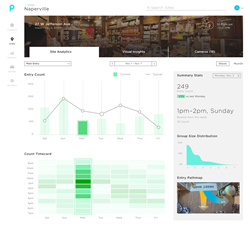 "By understanding how customers shop our stores, pathmaps enable us to make more informed decisions about product assortment, merchandising strategy, and store design." – Marc Schwarzbart, VP of Merchandising, Lolli and Pops
San Francisco, CA (PRWEB) January 12, 2015
Prism Skylabs, the global leader in cloud-based video intelligence and imagery, today announced a major upgrade to its award-winning retail analytics platform. With this release, Prism makes it easier than ever for retailers to critically understand and optimize their physical stores.
ANALYTICS TO UNDERSTAND THE CUSTOMER JOURNEY
Prism's analytics empower retailers with the ability to run on-demand studies of the customer journey and A/B test their stores in real time. Included in this release are dynamic pathmaps that offer visual summaries of customer movement in any area, and surface new metrics around customer flow rate, group size, occupancy, and dwell time.
"Prism's pathmaps allow us to create a better in-store experience for our customers," said Marc Schwarzbart, VP of Merchandising for fast-growing confectionary Lolli and Pops. "By understanding how customers shop our stores, pathmaps enable us to make more informed decisions about product assortment, merchandising strategy, and store design."
DASHBOARDS AND ENTERPRISE REPORTS
Prism's powerful new dashboards drive awareness and provide insight throughout the organization. At-a-glance overviews of key data points make it easier for regional and store managers to improve operations; and robust, customizable reporting tools and templates provide business analysts and executives with an enterprise-wide understanding of store performance, customer trends, and the effectiveness of merchandising and marketing campaigns.
MANAGEMENT, DIAGNOSTIC, AND SELF-CONFIGURATION TOOLS
In addition to new customer-facing features, this release includes the launch of Prism Pulse, a breakthrough deep learning technology that enables immediate setup and calibration of analytics, and continuous tuning post deployment. Pulse automatically optimizes Prism's computer vision algorithms, and expedites the
installation of Prism's cloud service at scale.
"With Pulse, we can calibrate our analytics across thousands of stores with the push of a button," said Prism CEO and Founder Steve Russell. "Traditionally, analytics have been thought of as difficult to install and require a great deal of customization. Pulse allows for this process to be almost completely automated."
For a sneak peak of Prism's new technology, visit Prism Skylabs at the NRF Big Show, booth 2675, at the Javits Center in NYC from January 11 – 13.
###
Prism helps makes sense of a visual world. Its unique cloud service transforms any video camera into a business intelligence tool that can be accessed from any device. Retailers large and small, as well as other customers, use Prism's platform to remotely audit, manage, and optimize their real-world businesses.