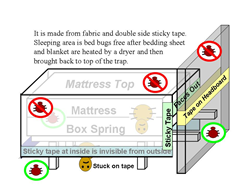 Princeton Jct, NJ (PRWEB) January 20, 2015
Bed Sized Bed Bug Trap LLC has invented a nonchemical trap that stops bed bug bites on the first day and kills 100 percent of them in weeks. This new trap has been fashioned to make traditional methods of bed-bug control, such as pesticides, vacuuming, organic remedies, zippered mattresses, and steam cleaning, obsolete. Dahai Dong, the company's founder, said the ultimate goal is to force the bed bug into extinction.
Dahai Dong invented the trap when his home was infested, and he needed to keep his sleeping area bed bug free. At first, he used various sticky tapes to build a barrier around the bed, but the effort failed because the pests crawled over them. He then used fly-catching tape, but this effort also proved unsuccessful as the tape left an uncomfortable residual on his skin and blanket. His third design, however, was a success, resulting in a one-of-a-kind trap that formed an invisible barrier between the bed bugs and him.
This trap, playfully called "Bed Bug Terminator," is a special cover placed directly on the bed. The cover is crafted with an edge of special double-sided tape, one which leaves no residue behind. It comes in twin, full, queen, and king sizes, and the trap can be assembled in minutes with a few quick and easy steps.
When bed bugs travel toward the bed, attracted by the warmth and carbon dioxide produced by the sleeper, the sticky edge ensnares them, ensuring they never reach their human meal. Since pests survive off blood alone, any trapped critters soon starve, preventing them from repopulating the home with future generations.
The company's method also includes extra double-sided tape to further protect the house. When placed on the bed's headboard as well as chair and furniture legs, this tape provides an extra layer of defense against the infestation.
Bed Sized Bed Bug Trap has received many questions about its products and bed bugs. Here is a list of FAQs and the company's answers.
Q: How do you stop bed bug bites within 24 hours?
A: More than 99% bed bug feedings occur at night. This trap eliminates that chance. Bed bugs are not likely to seek food during the daytime. It is easy to keep one's body free of bed bugs with some effort, such as applying sticky tape to furniture legs and taking a shower before sleep. If your body picks up a bed bug after sitting on a sofa, you can easily feel it and notice the biting sign on your skin. Taking a shower and heating your clothes in the dryer will make your body bed bug free again.
Q: I heard bed bugs can live for one year without a bloody meal. Is this true?
A: Capture some bed bugs in a glass jar and leave the jar in your bedroom. You can watch the bed bugs feel the CO2 and crawl every night for food, but they will ultimately starve within in weeks. Bed bugs may live longer if in a refrigerator.
Q: Do I need to use steam, chemical, vacuuming, or mattress encasing methods?
A: To stop bites on the first day and kill 100 percent of bed bugs in weeks with negligible effort, you don't need any of these methods. The problem can be solved by a one-time easy application of the Bed Sized Bed Bug Trap method.
According to the Pest Management Professional, the bed bug control industry brought in a total revenue of $450 million controlling bed bugs in 2013. Bed Sized Bed Bug Trap LLC is currently seeking investors who wish to develop this patent-pending product to build a business to serve this market demand.
For further information about Bed Sized Bed Bug Trap, please visit http://www.bedsizedbedbugtrap.com/.
About Bed Sized Bed Bug Trap
Bed Sized Bed Bug Trap LLC is located in Princeton, New Jersey. The company was established with a motivation to reduce the typical cost of bed bug extermination, from $1,000–$10,000 down to a couple of hundred dollars. This inspired the company's founder, Dahai Dong, to create the Bed Sized Bed Bug Trap. After several versions, Dong finally succeed with a design that is unobtrusive for the user yet catches bed bugs and prevents them from crawling to the top of the bed. Our story also tells why exterminators never had a chance to get rid of bed bugs so easily.