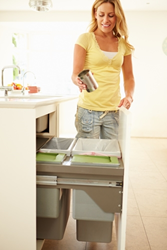 If one has an open house or scheduled showing, start cleaning up in advance.
Chicago, IL (PRWEB) January 09, 2015
The Federal Savings Bank knows that when prospective home buyers are looking through houses, they're often looking to gauge the space in the rooms or whether they can update the look of the homes. However, when houses are not spotless, it's hard to concentrate on anything but the mess in what could be their new homes.
To increase the attractiveness of a home to house hunters, The Federal Savings Bank compiled the following five tips to clean the house before a showing:
1. Don't wait until the last minute
Although sellers already have busy lives on top of having to sell their homes, it's crucial to avoid waiting until the eleventh hour to start cleaning the house. If one has an open house or scheduled showing, start cleaning up in advance. Homeowners can start out small by removing any clutter from the rooms the buyers will walk through and then begin tackling any remaining dust or grim.
2. Take off dust fast
Speaking of dust, plenty of dust has likely accumulated on the furniture, fans, windows and other parts of the home. House hunters don't want to walk into a house that is covered in dust, especially if they have allergies.
If one has a showing soon, use a feather duster rather than a wet cloth to clear off built-up dust, according to a November 11th article by Huffington Post. This type of duster will be able to reach the nooks and crannies of a house without putting in too much work.
3. Remember to clean outside of the home
While home buyers are more likely to pay attention to the inside of the home rather than out, the curb appeal of the house is likely to draw buyers' attention. Remove any debris, such as any lawn or tree trimmings, from near the outside of a home.
4. Freshen up smells in the kitchen
Known as the center of the home, the kitchen is often a prime focus for home buyers as they tend to pay attention to the condition of the kitchen and its cabinets and appliances. However, any off putting smells could leave a bad impression on buyers. Whether it's coming from the trash bin or garbage disposal, one should address any foul-smelling odors before buyers come.
To have a clean and fresh kitchen, spray an odor-eliminating and bacteria-killing spray in the trash can to make these smells go away. For a garbage disposal, drop some citrus peels - lemon or orange - in the disposal and run the device, according to realtor.com. Then pour some ice in and continue to operate the garbage disposal.
5. Clean up pet hair
While homeowners love their pets, house hunters might not feel the same way, especially when it comes to the hair pets leave around. When getting a house ready, look for places that might have collected pet hair over the years. This can include carpeting, flooring and even duct work. Check the ducts for pet hair in case any has accumulated there over the years, Fox Business recommended.
Contact the Federal Savings Bank, a veteran owned bank, to learn more about owning a home.