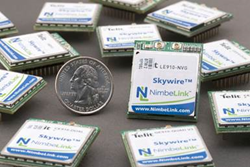 Plymouth, MN (PRWEB) January 13, 2015
NimbeLink's Skywire LTE modems let developers quickly add cellular connectivity to their products without the high cost and delay of obtaining FCC and carrier certifications. Certification is required for all devices that communicate via public airwaves, can cost as much as $50,000, and can take up to seven months to obtain. Like other modules in the Skywire modem family, the LTE Module is compact, affordable, and flexible, helping developers save time and money, and gain "first mover advantage" in bringing products to market.
The Skywire LTE modem with FCC and Verizon ODI certification is available in versions supporting all major LTE bands. It provides 100Mbps download and 50Mbps upload speeds and supports antenna diversity to maximize download speeds. Integrated GPS and GLONASS receivers provide worldwide positioning coverage. (GPS and GLONASS share a common connector which is separate from the cellular antenna connections to ease the integration of external antennas)
The 4G LTE modem joins the Skywire family of embedded cellular modems which already includes 2G and 3G technologies. Skywire modems are the smallest embedded modems on the market and are quicker and easier to deploy than chip-down and module solutions or external modems. All use a standard XBEE form factor, require just voltage and a UART or USB connection, and support a wide range of voltages and antenna connections.
Created by award-winning developers, Skywire cellular modems are the fastest way to provide cellular connectivity for machine-to-machine (M2M) products and speed them to market. All Skywire modems are available with bundled data plans and complete development kits, which can be purchased through Digi-Key (http://www.digikey.com) and Arrow Electronics (http://www.arrow.com).
About NimbeLink
NimbeLink takes the complexity out of cellular data communication. The company creates simple, application-specific devices and provides developers of products for the fast-growing "Internet of Things" with a range of design, component, and manufacturing solutions to help speed innovative products to market.