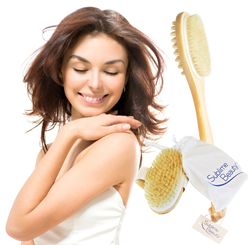 Skin Brushing boosts wellness, and for less than $20. It is an ancient technique that is thoroughly modern, says Sublime Beauty®.
St. Petersburg, FL (PRWEB) January 12, 2015
Improve well-being for under $20 and only ten minutes per day with the Sublime Beauty® Original Skin Brush.
"We are crazy for Skin Brushing," says Kathy Heshelow, founder of Sublime Beauty®. "We maintain a website devoted to all things Skin Brushing, and offer several different popular brushes."
Skin Brushing (also known as Body Brushing) aids the largest body organ (the skin) by exfoliating dead cells and toxins. It also boosts blood circulation, delivering important nutrients throughout the body; moves the lymphatic system which in turn keeps a stronger immune system in the body; improves mood; reduces cellulite or keeps it away; and more.
Sublime Beauty® offers HOW-TO GUIDES plus lots of tips on its websites. Dry Skin Brushing is simple to do, and most typically brush in the morning before the shower.
The Original Healthy Skin Brush is now back in stock and ready for purchase.
ABOUT: Sublime Beauty® is a French-inspired quality skincare company that focuses on products to Age Well. Ingredients help to boost collagen, hydrate, relax wrinkles and improve skin. A niche includes healthy Skin Brushes. The company webstore offers free standard shipping and a VIP Club. Sign up for Secret Sales on the site. Products also available on Amazon.