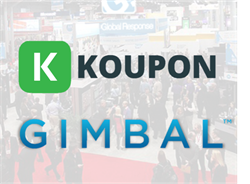 Mobile offers delivered through Koupon Media's Platform backed by Gimbal's technology are the most effective way to engage customers and drive sales - TJ Person CEO, Koupon Media
New York, NY (PRWEB) January 13, 2015
Today Koupon Media and Gimbal announce their partnership at the National Retail Federation's "The Big Show." The partnership between two industry leaders in mobile technology will further enable brands and retailers to successfully target customers and drive sales with mobile technology.
A recent study by Responsys found that mobile offers are the top reason customers download a retailer or brand's app. Koupon Media, the industry leader in delivering highly targeted mobile offers, has distributed more than 250 million offers across thousands of stores through its Koupon Platform (patent pending). On average, its campaigns drive a 12% lift in unit sales.
"This partnership is significant to Koupon Media. The opportunity to work with a world-class leader in proximity and geofencing mobile technology helps us deliver targeted offers when customers are in-store and ready to buy," said Koupon Media's CEO, TJ Person. "Mobile offers delivered through Koupon Media's Platform backed by Gimbal's technology are the most effective way to engage customers and drive sales."
Gimbal, the leader in location and proximity-based mobile engagement has driven ultimate targeting and personalization for major retailers utilizing leading-edge technology. The NRF show comes on the heels of Gimbal announcing their Gimbal Proximity Beacon Series 21. The Series 21 beacon with iBeacon technology represents the highest quality beacon solution available; and it works. Utilizing Gimbal technology mobile campaigns that use macro- and micro-location are driving more retail visits. A recent study showed 66% of consumers engaged through geofencing went into the store.
"By incorporating Gimbal into the Koupon Platform, retailers and brands will be able to provide even more precise and relevant location-based mobile engagements with their customers," said Kevin Hunter, Chief Operating Officer, Gimbal, Inc. "We are excited to work with Koupon media to deliver even better experiences to their users, based on each user's individual interests and proximity."
About Koupon Media
Koupon Media is a mobile technology provider that enables brands and retailers to create and deliver highly targeted mobile offers across multiple distribution channels. Offers powered by Koupon Media help drive store traffic, increase mobile engagement, and gather actionable insights about shopper behavior.
To learn more, visit http://www.KouponMedia.com, Facebook.com/KouponMedia, or Twitter.com/Koupon
About Gimbal
Gimbal, Inc. is connecting brands, venues, events and retailers with their customers in exciting new ways by providing leading-edge mobile technologies and solutions. With advanced geofencing, the world's largest deployment of industry-leading Bluetooth Smart beacons, location-based engagement, analytics, unmatched security features and privacy controls, the Gimbal platform helps drive mobile app engagement and loyalty. Visit http://www.gimbal.com for more information.
Gimbal is a trademark of Gimbal, Inc. iBeacon is a trademark of Apple. Bluetooth is a registered trademark owned by Bluetooth SIG, Inc. Other product and brand names may be trademarks or registered trademarks of their respective owners.