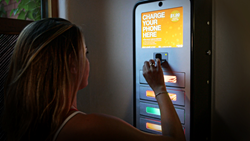 The Brightbox customizable and secure mobile device charging amenity is a great benefit for retailers who can earn revenue through sponsorship and advertising via the Brightbox brand messaging platform.
New York, NY (PRWEB) January 12, 2015
Brightbox, Inc. (http://www.brightboxcharge.com), the leading platform provider of networked, safe and secure mobile device charging, is pleased to announce it will be enhancing the attendee experience and exhibiting the new Brightbox® Mark3 Mobile Charging Platform at the National Retail Federation's (NRF) upcoming Annual Convention and Expo (Retail's Big Show) at New York's Jacob K. Javits Convention Center, January 11-14, in booth #317.
NRF's Retail's Big Show in the Big Apple is the retail industry's flagship trade-show, conference and exposition entirely dedicated to all things retail. The event draws industry professionals worldwide together for educational sessions, retail insights and strategies, networking, and an exhibition featuring the latest in retail technology.
The new Brightbox® Mark3 mobile charging platform, which enables consumers to continue to communicate, navigate, search, shop, share, pay and play on their mobile devices, is the most innovative, safe and secure mobile device charging solution available today. Unlimited charging sessions via Brightbox will be offered to NRF show attendees at the Brightbox booth, #317. Users simply swipe a credit/debit or complimentary card to open an available station chamber, plug in their mobile device, close the chamber and return later to swipe the same card to retrieve their charged phone.
"The Brightbox customizable and secure mobile device charging amenity is a great benefit for retailers who can earn revenue through sponsorship and advertising via the Brightbox brand messaging platform," said Billy Gridley, CEO of Brightbox. "Mobile devices are an intrinsic part of daily life, including shopping. Consumers use them to research products, comparison shop, receive coupons and special deals, and stay connected and informed via social media. In store dwell times are substantially greater with Brightbox, as shoppers can linger longer, knowing they can charge their phones at any time for as long as necessary."
Brightbox is perfect for retailers of all types and is the latest technology that can be customized to clients' needs. The Brightbox® Mark3 features a 10" interactive touch screen, customizable swipe cards and a strong brand-messaging platform. The UL and agency certified stations ensure the physical security and data integrity of phones being charged, are PCI compliant with a best-in-class encrypted card reader and meet the highest standards for safety and security. They offer retractable charging cables and larger chambers that can accommodate nearly any mobile device, including the latest phablets, while delivering the safest fast charge possible at optimized manufacturer recommended rates.
Brightbox charging stations are anticipated to be heavily used throughout the entire NRF Retail event which features breakout sessions on technology, innovation, and financing. Attendees can continue to attend sessions, network, take meetings and work, resting assured that their phones are being safely and optimally charged in a station that delivers both data privacy and physical security.
"We're pleased to be at NRF's Big Show enhancing the attendee experience," said Don Rossi, Senior Vice-President of Sales for Brightbox. "Event professionals use their mobile devices for just about everything at conferences and having the Brightbox solution available for their on site charging needs will keep them delighted, charged and engaged."
About Brightbox
Brightbox® is a New York City based end-to-end technology solutions company providing venues and users with best-in-class mobile device charging services and a robust platform for marketing, sponsorship and venue interaction. Founded in 2011, Brightbox delivers advanced and innovative charging solutions and has deployed its secure charging lockers in 3 countries and 20 states in a variety of event and vertical markets that include hospitality, entertainment, healthcare, retail, education, transport and beyond.
Event customers include AOL, AdWeek, American Airlines, BBC Comic Con, CEDIA, Discovery Channel, Detroit Grand Prix, Event Tech, IBM, IMEX, Inc. 500/5000, New York Fashion Week, New York Times Travel Show. Other enterprise customers include Hilton, Hyatt, Sheraton, Caesars, MGM, Heineken, RadioShack, New York Red Bulls, Tampa Bay Rays, Baystate Health, Orlando Health and British Airways. Learn more at http://www.brightboxcharge.com @brightboxcharge
About NRF's Big Show
NRF's Annual Convention & EXPO earned the nickname "Retail's BIG Show" years ago and because the name was so appropriate, it stuck. Today, Retail's BIG Show is NRF's flagship industry event held annually in New York City. The four-day event offers unparalleled education, collegial networking, and an enormous EXPO Hall full of technologies and solutions.
After more than a century, Retail's BIG Show is still the place - the only place - where you can see and experience all things Retail. It is truly one-stop-shopping for industry professionals from the around the world. http://bigshow15.nrf.com