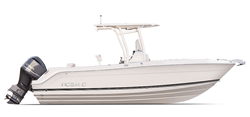 It's been a long time since we've seen gas prices this low and that makes a day on the water much more affordable, for boats of all sizes. Boaters can look forward to more fun that we've seen in many summers
St. Joseph, Michigan (PRWEB) January 12, 2015
Pier 33 Marina of St. Joseph Michigan is preparing for another return to Chicago's premier boating event, the upcoming 2015 Progressive Insurance Chicago Boat, RV & Strictly Sail Show and Pier 33 will present an eye-catching display of new boats from Robalo and Pursuit.
The boat show will be held at McCormick Place in Chicago, January 14 through 18
For the very first time Pier 33 will offer boat show place visitors an opportunity to view new boats from Robalo, including the debut of the all-new Robalo R 242 Center Console plus a fresh look at three national sales leading models – the R 180 & R 200 center Consoles, plus the R 207 Dual Console.
For the fifth consecutive year, Pier 33 will also be the standard-bearer for new boats from Pursuit, showing-off the brawny but stylish S 280 Sport – ideal for the choppy waters found on Chicago's Lake Michigan shoreline – powered by a pair of Yamaha 250 HP outboards and featuring a chop-calming 24-degree deadrise.
According to Pier 33 General Manager Tighe Curran, dealers and boaters should be more excited than ever about an approaching summer: "It's been a long time since we've seen gas prices this low and that makes a day on the water much more affordable, for boats of all sizes. Boaters can look forward to more fun that we've seen in many summers".
More information about the boat show, Robalo Boats, Pursuit Boats and Pier 33 is available on-line at http://www.pier33.com.
Pier 33 is a dealer for new boats from Robalo, Pursuit and Chaparral. Pier 33 is a full-service marina, with used boat sales, yacht brokerage, 220 docks, complete boat storage and boat repair services and boater conveniences such as Launch on Command and Hook 'n Go options available in-season. Pier 33 serves boaters from a wide region, with many visitors and boating clients based in Michigan, Indiana, Illinois, Ohio and Wisconsin.
The 2015 Progressive Insurance Chicago Boat, RV & Strictly Sail Show opens Wednesday January 14 and concludes Sunday January 18. For the first time in two decades, the show venue reunites power and sailboats and will also feature an expanded array of accessories, activities and vendors.