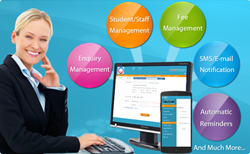 Manage your school and institutes with CenterManage's mobile App
San Jose, CA (PRWEB) January 12, 2015
CenterManage helps institutes manage day to day work very easily, in a paperless way and online. It uses cloud based infrastructure.
Institutes/School can manage students' data, manage the admission inquiries and follow-ups, send assignments and photos and can communicate with students and parents over email, sms or via mobile app.
Software also has fees management, library management, identity cards management and multiple franchise management.
The application has a few customized features specific to play schools too. Special emphasis is given to the data-security and ease of use.
As per Ajit Raj, the sales and business head of Zebra Infotech, CenterManage is already tested and used by hundreds of Mid-sized Schools, Play Schools, Activity Centers, Open University Centers, Tuition Centers, Coaching and Training Institutes, Gym, Libraries and other similar businesses. We continuously enhance our features based on the feedback from various centers, so without even asking you will see the software improves and adds new useful and make-life-easy features.
Ajit Raj further adds, we have made sure the cost of the software is very affordable, and the cloud infrastructure has helped us achieved so. Average cost for a school with 500 students comes to around $200 per year for using the portal based solution. However the cost goes up a little for giving individual accounts to parents/students and for enabling mobile App per parent/student.
With the latest updates, CenterManage allows the schools to even have their own branded app with their name and logo on Google Play Store and soon on the Apple Store.