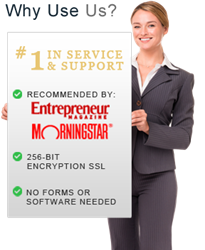 Filing W-2/1099-MISC for your company online vs traditional forms can protect your recipients from identity theft and your company from liability.
Corpus Christi, Texas (PRWEB) January 13, 2015
Each January, businesses get ready to report wages paid to employees and contractors to the IRS and SSA. A process which usually includes visiting the office supply store to buy traditional pre-printed W-2 and 1099-MISC forms, compatible envelopes and software, usually to find forms only available in larger quantities than are needed or out of stock. The real fun is back at the office where the forms must be printed, stuffed, mailed to the recipient, along with state and federal agencies by January 31. This costs the average business, filing for 10 employees, about $300 in time and materials each year.
Fortunately, small businesses can avoid expenses and time by using an IRS Approved e-file provider. Online providers offer web-based options allowing the company to enter 1099-MISC and W-2 form data online, instantly print IRS-approved recipient copies on plain paper or as a secure pdf and that data is electronically filed to the IRS, SSA and states that participate by the established filing deadlines.
When choosing a provider, it's important to use a service with accreditation not only from the IRS, but peers in the industry it services. WageFiling for example, is an Authorized e-File Provider which has been an IRS Quality Supplier since 1996 and recommended by CPA Technology Advisor, Entrepreneur, MorningStar and many others as top in it's class.
An important feature of their service is a new IRS Regulation called SSN Masking. SSN Masking protects the identifying information found on W-2/1099-MISC recipient copies by hiding the first five digits of the SSN or EIN with an X, ensuring businesses have done due diligence to protect its workers' identities from being stolen and adding another layer of security regardless of whether forms are emailed or sent via the postal service. Now that this regulation is in effect, if a company does not use SSN Masking and identity theft occurs to the recipient, the company can be held liable for damages.
An IRS Quality Supplier since 1996, WageFiling is a simple, cost-effective service which allows small businesses to quickly prepare and e-file 1099-MISC and W-2 forms online without the burden of yearly tax forms or software. Backed by bilingual English-Spanish customer service and industry leading e-filing software, the WageFiling team prides themselves on taking the stress out of wage tax filing.