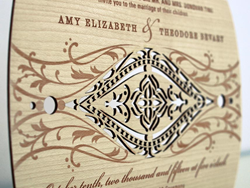 Invite Design is changing expectations about what it means to offer an environmentally friendly wedding invitation.
Cleveland, OH (PRWEB) January 27, 2015
Owners of Invite Design, Nicole Wilson and Genevieve Kenney, have released two new lines of creative wedding invitations featuring real wood: laser cut wood invitations and imprinted wood invitations.
Laser Cut Wood Invitations and response cards feature intricate laser cutting and engraving into reclaimed, hand-finished, sturdy, 1/16" thick wood planks. Species of wood may vary depending on what is available to reclaim, but all are light in color in order to showcase the engraving, such as maple, birch and sycamore. Each design features engraved lettering that is customizable to any event. Reclaimed wood makes these invitations environmentally friendly, and their beauty lends them to being repurposed as ornaments, trivets, art and more after the wedding.
All Imprinted Wood Invitations possess contemporary designs printed on .025" thick birch veneer. Each design features full color printing on the front with a coordinating pattern on the back. A matching double-sided response postcard eliminates additional envelope waste. Though it is only slightly thicker than a heavy-weight card stock, the veneer maintains the natural sheen and grain of wood. The veneer is sustainably harvested, and compared with paper, it requires less wood for production, and there are no chemicals used in the process. The wood and inks are 100% biodegradable, but the invitations can also be repurposed as art, coasters and more.
With these wedding invitation lines, Invite Design is changing expectations about what it means to offer an environmentally friendly wedding invitation. It's not just about materials – it's also about longevity, serving multiple purposes and considering every aspect of how a product is made. When Invite Design says "eco-friendly wedding invitations" it means…

The wedding invitations have continued use in guests' homes after the event is over, being repurposed as home decor, candleholder, and more.
The carbon footprint is reduced by designing and manufacturing each wedding invitations in the USA.
Utilizing reclaimed wood reduces the amount of new materials used for invitation purposes.
Printing on sustainably harvested wood reduces the impact on endangered species.
All real wood wedding invitations are 100% compostable.
All imprinted wood wedding invitations are printed with eco-friendly toners on a digital press, which requires less energy than a full litho press.
In addition to real wood wedding invitations, Invite Design also offers patent-pending sculpted metal wedding invitations. All Invite Design wedding invitations are 100% designed and manufactured in the USA. Wording can be customized to suit weddings, parties or corporate events.
About Invite Design – Invite Design was started in 2004 by owners and graphic designers, Nicole Wilson and Genevieve Kenney. Invite Design has two locations in Cleveland, Ohio and Cincinnati, Ohio. In the last decade, Invite Design has been featured in The Cleveland Plain Dealer and Crain's Cleveland Business for its trend-forward design and eco-friendly products.