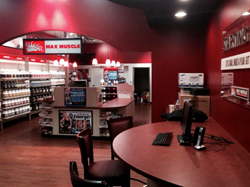 "We are driven by science and defined by quality".
Richland, WA (PRWEB) January 12, 2015
Max Muscle has just released one of its newest products and it promises to deliver big gains.
"Driven by science and defined by quality is our motto," said Jason Phillips, CEO of Tri Cities Max Muscle. "We are constantly bringing new products to market that are driven by science and Maxxtor is something we are very proud of."
According to a Jan. 29, 2014 article on Max Muscle Sports Nutrition's website http://www.maxmuscle.com, MaxxTOR™ is driven by Mediator® Phosphatidic Acid one of the most powerful molecular activators of the mammalian target of rapamysin (mTOR) signaling pathway. The protein enzyme kinase mTOR is the master regulator of the signaling network that controls skeletal muscle growth (muscular hypertrophy). Research studies have shown that an elevation in PA activates mTOR signaling that is induced by mechanical muscle activation (e.g., weightlifting). The proposed mechanism is that PA binds and activates signaling pathways controlling protein synthesis involving phosphorylation of the target enzymes Akt/mTOR (rapamycin), a protein kinase and the sequential stimulation of p70 ribosomal S6 kinase (p70 S6K) through enhanced translation of specific mRNAs. The Akt/mTOR pathway in muscle is unregulated during the hypertrophy (increase in muscle size) phase.
A recent double-blind research study conducted by Dr. Jacob Wilson, June 24th, 2014 and his research team at The University of Tampa using Mediator® Phosphatidic Acid with resistance training produced the following dramatic results:
Subjects gained 5.3 lbs. of lean muscle mass and produced a 200% increase in lean muscle mass than subjects who worked out intensely alone!*
Subjects lost 2.9 lbs. of fat mass and allowed subjects to lose 260% more fat mass than subjects who worked out intensely alone!*
Subjects gained 47% in bench press strength!*
Subjects gained 68% more cross sectional area in their rectus femurs (large quadriceps muscles) vs. placebo subjects*
The MaxxTOR™ formula developed by the Research & Development Team at Max Muscle Sports Nutrition has combined Mediator® Phosphatidic Acid with other key synergistic ingredients including L-Leucine, Beta-Hydroxy-Beta-Methylbutyrate (HMB) and Vitamin D3 to deliver the most powerful mTOR Signaling Activator ever developed.
Max Muscles motto is, "Driven by science and defined by quality." Jason also said, "Not only do we deliver the highest quality education on nutrition and supplementation, our products are known to be of the highest quality and integrity, and we are proud of that."