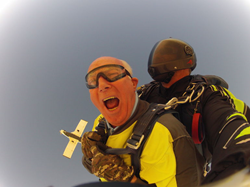 "These 10 personal travel photos represent the delight we hope our customers are having every time they book a Viator experience," said Kelly Gillease, vice president of marketing for Viator.
San Francisco, Calif. (PRWEB) January 12, 2015
Whether you're swimming with the fishes or riding a camel through the desert, a photo is the best way to keep that memory alive long after you've returned from holiday. The team at Viator – the leading resource for researching and booking tours and activities worldwide – reviewed thousands of images submitted by travelers in 2014 to pick their top 10 favorite photos of 2014 (in no specific order) helping commemorate what was obviously a great year in travel and inspire more of the same for 2015.
"While the 'selfie stick' may change the perspective of photos in 2015, many of the most interesting images of 2014 were captured by a companion as the travelers themselves were clearly more focused on their activity than on their cameras," said Kelly Gillease, vice president of marketing for Viator. "Photos posted by travelers on the Viator site and app help fellow travelers preview an experience before booking it; a picture can truly be worth a thousand words. These 10 personal travel photos represent the delight we hope our customers are having every time they book a Viator experience."
Top 10 Viator Traveler Photos
Diana B says, "I found my happy place" during the Submarine Scooter Adventure in Oahu. If Diana's smile were any bigger she'd need a larger scooter.
Jocelyn D captured this contemplative moment amidst the "striking scenery" during a break from the Queenstown ATV Tour.
Bogiebnch captured more underwater escapades while on a Cayo Paraiso Deserted Island Tour from Puerto Plata in the Dominican Republic.
Kvpogoda was able to photograph this once-in-a-lifetime moment while enjoying a Half-Day Chengdu Panda Breeding Center Tour with Optional Baby Panda Holding in China. (Pandas! How can this not be #1?!)
Ian M. knows what it's all about and is clearly enjoyed himself when he captioned this exhilarating photo of his tandem skydive in Las Vegas, "Who pushed meeeeeeeeeeeeeeee."
Nick was in London during a very special time in 2014 and captured the moving "wave of poppies" installation memorializing British lives lost during World War I while experiencing the Tower of London Entrance Ticket Including Crown Jewels and Beefeater Tour.
Fiona V. captures the Florence sunrise over the terra cotta rooftops while readying for her Vespa Tour of the Tuscan Hills and Italian Cuisine.
Bernie (the traveler not the camel) enjoys a unique vantage point from which to explore the Pyramids at Giza during a private tour from Cairo.
Yuhui H. captured this shot of her guide JJ stunningly suspended amidst the rock formations as they traversed through the Valley of Fire on a day trip from Las Vegas.
Adrian S was "flying off the bottom of the longest sand dune in Dubai" as he experienced one of the coolest and most adrenaline-charged activities available on Viator during the 4×4 Sandboarding Safari in one of the hottest destinations on the rise for 2015.
This fun and inspiring selection of the coolest Viator traveler photos is part of the Viator Travel Awards, an annual series where the Viator team – along with Viator blog readers, travelers, and fans – select the top things to do and see in each of Viator's major regions, tour categories and more.
For more information on these and thousands of other amazing travel experiences, as well as the latest deals, promotions, contests and news, visit http://www.viator.com or follow Viator on Facebook (ViatorTours) and Twitter (ViatorTravel).
About Viator
Viator, a TripAdvisor company, is the leading global tours and activities provider for travelers, delivering online and mobile access to thousands of curated trip activities including tours, attractions, shore excursions and private guides, in more than 1,500 destinations worldwide. In-house travel experts work with trusted local operators to ensure the quality and value of every experience, all backed by Viator's 24/7 customer service and global low-price guarantee. With more than 600,000 verified reviews plus exclusive videos and insider travel tips, Viator has everything a traveler needs to find and book the best things to do worldwide. In addition to the flagship site – Viator.com – travelers can book in advance or in-destination via the Viator Tours and Activities App, as well as local-language sites for European, Latin American and Asian travelers. Viator also provides tours and activities to more than 3,000 affiliate partners including some of the world's top airlines, hotels and online travel agencies. Viator is headquartered in San Francisco with regional offices in Sydney, London and Las Vegas. Viator – travel with an insider.