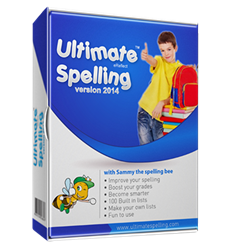 Learning how to spell is a skill that's quickly and easily mastered through consistent practice and dedication.
New York City, NY (PRWEB) January 13, 2015
Spelling software designer eReflect has published a new article on the Ultimate Spelling™ website that reveals tips on how and why people should bypass their automatic spellcheckers, while still ensuring their piece of writing is free of misspellings. eReflect is the proponent and designer of a user-friendly, efficient spelling program. The company believes that although people today are relying more and more on technology to improve their written communication, the truth is they can do without it. Spelling is an easy skill to master, if the right resources and activities are available to the speller.
If someone wants to learn how to spell there are numerous free and affordable spelling tutors that can assist them in this endeavor. According to eReflect, it's also important that people get out of the habit of relying on built-in spellcheckers. A person can refer to a dictionary for a word's spelling and proofread the documents on their own instead of using an online spellchecker. As eReflect notes,
"Proofreading is 95% being intuitive and shrewd, and 5% being attentive to detail. You know which words give you trouble, so look out for them. Words with suffices and prefixes are the usual suspects of many misspellings, so know when the endings –able and –ible are used (as in 'formidable' and 'responsible'). You'll immediately be able to spot the incorrect spellings once you've mastered this technique. "
Improving spelling skills is easier than it seems, eReflect contends. Learning how to spell is a skill that's quickly and easily mastered through consistent practice and dedication. Relying on a spellchecker or an autocorrect tool might be the easy way out, but it has its toll in how complete and proficient a person's orthography skill really is. Using a dictionary and trying to figure out a word's spelling through trial and error can help people kick the habit of depending on spellcheckers, and give them the ability to accurately spell and proofread their own communication at any level.
***********
For more information about how Ultimate Spelling software can improve spelling performance for you and your family, please visit the official website at http://www.ultimatespelling.com.
About Ultimate Spelling™
Ultimate Spelling provides a modern and easy to use spelling software that has been designed with one goal in mind – making children want to learn.
It is a fast and easy way to master even the most complicated spelling, without the need to write long lists or complete boring tests.
In fact, Ultimate Spelling provides more than just spelling help. It is a complete educational resource that boosts all level of a child's literacy.
Containing a personal computer tutor, Ultimate Spelling is the most realistic step-by-step guide to flawless spelling ability.