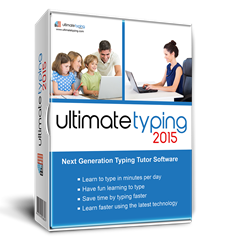 Children that can type fast and accurately are more confident with keyboarding-based projects and activities
New York City, NY (PRWEB) January 14, 2015
eReflect announced today on the Ultimate Typing™ blog that keyboarding has a plethora of benefits for every child, emphasizing that this tech skill is fast becoming an indispensable qualification for success at school and in future employment, especially for younger generations. Touch typing is a skill companies take for granted; managers assume that their employees know how to touch type. Today, it's also a skill that teachers expect their students to have already mastered. However, this is far from reality, as eReflect notes in a new article that promotes the teaching of keyboarding to young children to help give them a push in their academic and professional life.
eReflect has been helping children around the world learn to touch type with Ultimate Typing™ and Ultimate Typing™ EDU. The company assures readers that even if they don't have access to typing software there are plenty of other alternatives for mastering keyboarding.
Keyboarding skills can be learned through online resources and games, eReflect explains. A key benefit to learning keyboarding is that a proficient typist can save thousands of typing hours in their lifetime by mastering this seemingly trivial skill. But it's especially important for young children to learn to type, as there are even more benefits. Children that can type fast and accurately are more confident with keyboarding-based projects and activities. The more they touch type assignments and projects, they better at it they become.
A young child that has above average typing skills is more productive and in turn more eager to learn, because their skill facilitates their learning through technology. eReflect also mentions how children with learning difficulties often find it easier to touch type assignments and homework than do it in cursive. eReflect encourages parents and educators to help children learn this invaluable tech skill and reap all its benefits now and throughout their life. Instead of expecting children to take initiative and learn this skill, it should be part and parcel of their curriculum, eReflect asserts, and parents and teachers are the people capable of making this a reality.
*********
For more details on Ultimate Typing™ please visit http://www.ultimatetyping.com/.
For more details on Ultimate Typing™ EDU please visit http://www.ultimatetyping.com/schools.
About Ultimate Typing™
Ultimate Typing™ software is designed specifically for the improvement of typing skills. Created by eReflect, a world leader in e-learning and self-development software, Ultimate Typing™ has been informed by the latest developments in the science of touch typing.
Since its creation in 2006 by Marc Slater, the company has already catered to over 112 countries all over the world, offering products with the latest cutting-edge technology, some of which are among the world's most recognized and awarded in the industry.