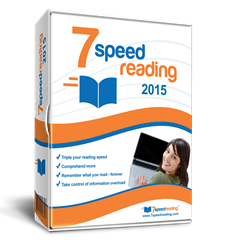 New innovations in technology will lead to unpredictable implications and advantages for the public
New York City, NY (PRWEB) January 15, 2015
eReflect, a self-education software leader and designer of 7 Speed Reading™ software, has published an article on the software's website that explores the technological battle between apps and web tools. The company discusses the ongoing debate over which modality is the most popular, and which will eventually prevail.
eReflect originally designed 7 Speed Reading™ to provide the public with robust tools for speed reading, and continues to expand and improve the software to incorporate the newest technology. The development team behind the software contends that the debate over apps and web tools shouldn't focus on popularity, but rather on ultimate utility. Even if Google Play Store and the Apple Store have over two million apps available to users, this is not definitive proof that apps are more efficient or popular. Web tools have their own benefits and unique privileges that users also appreciate. This point was made recently by the specialists at Edudemic. Their insightful infographic illustrates the role of web tools and apps in the educational realm. Web tools are often more robust and feature rich, while apps are more lightweight and user-friendly. For the end user, the question ultimately boils down to individual preferences and the purpose of the web tool or app.
"We can only speculate whether the majority of web tools will slowly morph into lighter, app versions of themselves, to ensure they remain relevant in the current 'app crazy' environment that seems here to stay. Considering the outstanding popularity and affordability of smartphones and tablets, this trend will likely continue," eRefect noted today. Whether all technology will be app-based in a few years is something that cannot be accurately predicted. New innovations in technology will lead to unpredictable implications and advantages for the public. "We'll just have to wait and see whether our tech world will be app or web-tool driven. Ultimately, what we know for sure it's that it will be more tech-centric than ever," eReflect concluded.
************
For more information about the benefits of using 7 Speed Reading, please visit the official website at http://www.7speedreading.com.
About 7 Speed Reading™
7 Speed Reading is the only modern speed reading software that uses the latest technology to produce superior results.
The software provides its users with a new way to master speed reading that guarantees three times the reading speed along with improved memory and comprehension.
The software is poised as the most comprehensive speed reading system anywhere. It contains seven learning strategies, fifteen software activities, video training, advanced tracking capabilities and many more exciting features.