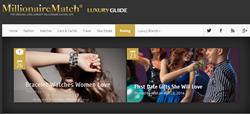 Los Angeles California (PRWEB) January 13, 2015
Everyone has mixed opinions on what constitutes the perfect amount of time to wait before having sex. So people can imagine the results were no different on a poll conducted on MillionaireMatch.com with 56.52% people against having sex on the first date and 43.48% saying the timing doesn't matter.
A number of members on the website felt that each couple should follow their own rules; things that happen in the heat of the passion are the best moments and must not be scripted. If the partners are in an honest relationship, then the timing doesn't matter. The members felt that trading sex for dinner or travel is not the right way to go. They also had opinions regarding what might lead to sex on the first date. If the partners treat each other right and have a great time, then it is acceptable for them to proceed as they feel is right.
On the other hand, a majority of the members on MillionaireMatch.com agreed that sex on the first night is not the ideal way to go. People must follow a certain number of rules to date a millionaire. There has to be a certain level of trust between two people for them to sleep together and that cannot be attained on the first date. Some women were of the opinion that a man has to prove his worthiness before they could sleep with him, that way they would know that the man is for real. Some members had extreme opinions and said that sex before marriage is taboo and should not even be considered.
Another popular opinion was that why should the woman take all the blame? After all it takes two to tango and calling the woman names is downright degrading. The only way a woman could be blamed is if she demanded a payment in return. Some people even thought that the entire poll was backward and prudish.
More useful information:
Millionaire dating services
Luxury brands millionaires love
Follow MillionaireMatch.com on Facebook and Instagram.
About MillionaireMatch.com
MillionaireMatch.com is an online dating website dedicated to helping attractive singles meet a millionaire. They have a database of over 2 million members from every field and walk of life. The website is successfully functioning since the last 14 years and has won a number of awards including Forbes 'Best of the Web' award.