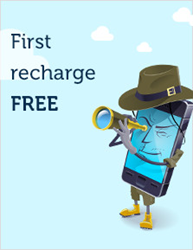 Excellent service. Am impressed as to how well it works. And I feel more comfortable with security during payment. (Richard Tustin on Trustpilot.com)
Atlanta, Georgia (PRWEB) January 13, 2015
MobileRecharge.com offers 100% free top ups for Latin Americans living abroad who haven't tried the service yet. More precisely, those willing to credit their family's or friends' Movistar or Claro cellphones can benefit from this appealing 100% discount promotion.
The offer is valid only if the prepaid numbers to be recharged belong to the networks in the countries below:

– Colombia (Movistar)
– Ecuador (Movistar)
– El Salvador (Claro, Movistar)
– Guatemala (Claro, Movistar)
– Mexico (Movistar)
– Nicaragua (Claro, Movistar)
– Peru (Movistar)
– Uruguay (Movistar)
– Costa Rica (Claro)
– Honduras (Claro)
The promotion addresses people from Argentina, Colombia, Ecuador, Guatemala and many other Latin countries who have not tried to send mobile credit yet with MobileRecharge.com. The first step to get started with the promotion is to open an account on MobileRecharge.com. It costs nothing to do that and one will have the account active for life.
More precisely, the 100% discount promotion has been conceived for:

those who haven't tried MobileRecharge.com before
those who have opened an account on the website and haven't tested its speed and efficiency yet.
The 100% discount applies in less than 1 minute, from a PC or from the MobileRecharge app (iOS/Android), and is available once per customer. Plus, it's available only if the value of the top up to Movistar or Claro mobiles is $2 for Movistar and $1 for Claro. To send the mobile recharge, one needs to:

To have a clearer idea, here is an example. One can order $2 to transfer to a Movistar mobile in Argentina. This means they will pay nothing but will send 17 ARS to the Argentinian number.
This promotion speaks up to those having friends or family in Latin America who use a Movistar or Claro mobile in the countries listed above. The owners of Movistar or Claro mobiles who receive the credit can be their friends back home or holiday pals, family or someone from their childhood or maybe a college roommate.
The advantages of an international top up with MobileRecharge.com are many:

It takes less than 1 minute to send a gift or top up one's personal phone
Mobile credit reaches the destination number instantly
Best top up value on the market
Daily promotions for global destinations
All transactions stored in the online account
Transactions are really simple compared to direct money transfers
One can control how the money sent home is spent
24/7 friendly Customer Support in several languages, available on chat, by email or phone
The current promotion of free top ups to Claro and Movistar has been conceived for the skeptical and those who need a trial version to test a service, or for those curious to top up Claro and Movistar mobiles for the first time in their digital life. And voila, here it is!
Daily promotions are also on MobileRecharge.com priority list. Worldwide offers are advertised under "Promotions" on the website. To stay updated, one should:

One can learn more about how to use the service, expat lifestyle and what's new in the long-distance communication industry by browsing and reading MobileRecharge.com blog at: http://blog.mobilerecharge.com/
More and more popular on the market, mobile top ups also known as airtime are:

a way to support people with lower income
simple gifts to show affection and attention
MobileRecharge.com has been set up as a service that helps people living in residential countries to transfer mobile credit from their MobileRecharge.com account to mobiles in other countries, most often in countries they immigrated to.
About MobileRecharge.com
MobileRecharge.com facilitates connection between families and friends living far away, through modern telecommunication solutions. It is an interactive website designed by KeepCalling, a global telecommunications company registered in 2002 in USA. From the get-go, MobileRecharge.com focused on creating an easy to use website and an easy to order service, succeeding to grow very fast. Presently, KeepCalling, the company behind MobileRecharge.com, provides its services to hundreds of thousands of consumers and businesses, with a focus on customer satisfaction. In 2014, Inc. 5000 listed KeepCalling as the 18th fastest growing company in the telecommunications industry in USA.