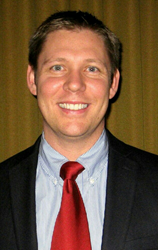 Sacramento, California (PRWEB UK) 12 January 2015
Bryan S. Wagner, CPA, a resident of Sacramento has been named partner at CPA firm Grant Bennett Associates, in Sacramento. A graduate of Illinois State University, Wagner had been an associate with the firm for the past eight years, concentrating his practice in audit and accounting.
"Bryan brings a depth of experience to our firm. As a CPA auditor, he is a tremendous asset to our clients," said Dawn Brenner, managing partner of Grant Bennett Associates. "We are glad to call him our partner."
Grant Bennett Associates Certified Public Accountants has been serving clients across the western United States from its Sacramento office since 1960. The firm offers a wide array of services including audit, tax, peer review, and accounting services, as well as personal financial management.