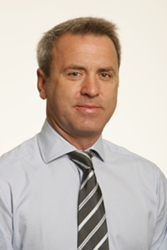 (PRWEB UK) 12 January 2015
Polycom, Inc. (Nasdaq: PLCM) today announced that Marco Landi has joined the company as President, Polycom EMEA (Europe, Middle East and Africa). In this role, Marco is responsible for leading the company's regional sales strategy and execution to drive customer success, brand affinity and profitable growth.
Marco joins Polycom from Zebra Technologies (formerly Motorola Solutions), where he was Vice President and General Manager EMEA. He has a long career history with Motorola Enterprise, where he served in several sales leadership roles, which included Motorola's acquisitions of Symbol and PSION during his tenure.
"Marco's leadership and strong background in sales and business management will continue to drive Polycom's success and leadership in this critical region," said Peter Leav, President and Chief Executive Officer, Polycom. "Every market in this region has unique opportunities as more organizations discover the benefits of Polycom's video, voice and content collaboration solutions. Marco will focus on providing our customers with the industry's best experience, while also strengthening our go-to-market with our strategic partners and our channel partners."
A dynamic sales and business leader, Marco has successfully led large and small teams through tough economic climates. His expertise lies in driving growth through challenging market conditions, enterprise sales, channels, marketing and go-to-market strategy across multiple markets.
"I am delighted to join Polycom and lead the EMEA team," said Marco. "Polycom's solutions help businesses of all sizes, in virtually every industry, improve productivity through collaboration experiences. The opportunity is significant, and I look forward to working closely with our partners to deliver the industry's best solutions to our customers and driving their success."
At Motorola Enterprise, Marco led the company's enterprise business across all markets in EMEA, holding leadership positions in PSION and Symbol (prior to acquisition). He was also part of the leadership team responsible for the acquisition and sales integration of PSION into Motorola in 2012. More recently, at Zebra Technologies, he led the 1,000 strong team responsible for $1.3 billion revenue across EMEA.
About Polycom
Polycom helps organisations unleash the power of human collaboration. More than 400,000 companies and institutions worldwide defy distance with secure video, voice and content solutions from Polycom to increase productivity, speed time to market, provide better customer service, expand education and save lives. Polycom and its global partner ecosystem provide flexible collaboration solutions for any environment that deliver the best user experience, the broadest multi-vendor interoperability and unmatched investment protection. Visit http://www.polycom.co.uk or connect with us on Twitter, Facebook and LinkedIn to learn more.
Forward Looking Statements and Risk Factors
This release contains forward-looking statements within the meaning of the "safe harbor" provisions of the Private Securities Litigation Reform Act of 1995, including statements regarding future revenue, profit, market share growth, and profitable growth for Polycom, future solutions and customer success. These forward-looking statements are subject to risks and uncertainties that may cause actual results to differ materially, including competition; demand for our products and solutions and changing requirements in the marketplace and in the EMEA region; our ability to successfully execute on sales strategy designed to drive revenue, profit, market share growth and profitable growth; risks associated with economic conditions, developments and external market factors in EMEA; and disruptions due to today's announced organizational change. These and other risks and uncertainties related to our business are discussed in the Company's Quarterly Report on Form 10-Q for the quarter ended September 30, 2014, and in other reports filed by Polycom with the SEC. Polycom disclaims any intent or obligations to update these forward-looking statements.
Polycom
Sarah Lloyd / Sonal Bisht
EMEA Communications
Sarah.Lloyd@Polycom.com / Sonal.Bisht@Polycom.com
Catalysis PR – for Polycom
Rachael Tomaney
Rachael.Tomaney@catalysis.co.uk
+44 (0) 20 7759 2026
© 2015 Polycom, Inc. All rights reserved. POLYCOM®, the Polycom logo, and the names and marks associated with Polycom's products are trademarks and/or service marks of Polycom, Inc. and are registered and/or common law marks in the United States and various other countries. All other trademarks are property of their respective owners.