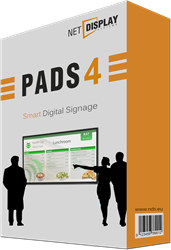 Unlike many other HTML5 digital signage products the PADS HTML5 Viewer is a real application, not a streaming solution
EINDHOVEN (PRWEB) January 13, 2015
Net Display Systems (NDS), key player in the global market of smart digital signage software, announced details on their latest PADS4 software release. This release offers a wide range of new opportunities for digital signage solutions using HTML5 capable devices.
With the growing demand for low-cost digital signage and the increased availability of more affordable hardware, NDS released software that includes an entirely new PADS4 HTML5 Viewer. This versatile HTML5 Viewer plays rich content on a wide variety of displays that come with a player device supporting HTML5.
NDS has matched the benefits of the high-end Viewers in the HTML5 Viewer software. Not only playback of web content and video, but also interactivity has been added to the pallet to design presentations for browser based players. The software allows people to create layered presentations. For example they can include an interactive button showing a scheduled meetings-overview on a digital door sign while displaying current meeting details retrieved from a room reservation data source.
"Unlike many other HTML5 digital signage products, the PADS HTML5 Viewer is a real application, not a streaming solution," says CEO Willie-Jan Bons. "This offers PADS users huge benefits," he continues. "Our new HTML5 Viewer has a big impact on reducing network traffic, and in case of network failures the screen of a PADS HTML Viewer will not switch to a black screen. All content will continue to be displayed as scheduled."
For those who are interested how the latest PADS4 release can optimize their HTML5 digital signage, go to http://www.netdisplaysystems.com and request a free 30 day trial.