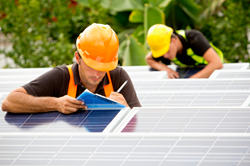 NC will be home to the largest Utility Scale Solar Farm project to ever be built in the Eastern U.S.
Asheville, NC (PRWEB) January 12, 2015
Innovative Solar Systems, LLC has all approvals in place including interconnection agreements, purchase power agreements, state, federal and regulatory approvals for Innovative Solar 46, LLC, a 78.5MW solar farm project located in Hope Mills, NC. This project will be the single largest solar farm project ever built in the south eastern United States. CEO and spokesman John E. Green states that the company is very excited to start construction sometime in 2015. ISS is courting many large investment groups that wish to own this solar farm asset long term after construction. The fifteen (15) year PPA and flat easy build site make this a financially attractive project for many states John E. Green, CEO of ISS.
ISS has secured a very credit worthy EPC that will construct this project in a timely fashion while warranting the project and providing the required long term operating and maintenance services for IS46. Large projects like IS46 are not new to the Innovative Solar team as this company has become one of the largest developers of utility scale solar farm projects in the U.S. Many notable investment groups, solar panel companies and hedge funds are in discussions with ISS at present and the long term owner of this project will be named within 30 days. North Carolina has proven to be one of the solar friendliest states and due to yearly amounts of sunshine it is one of the best overall states for large solar farm projects.
Building utility scale solar farm projects can require more expertise than building a hospital, states Green of ISS. One reason Innovative Solar Systems is considered to be one the best developers of these types of projects relates to the company's strong background in engineering and real estate development. Our team is better by design, states Green of ISS. For information on investor relations or for more information on how to purchase the company's IS46-78.5MW solar farm project please contact ISS at (828)-215-9064.