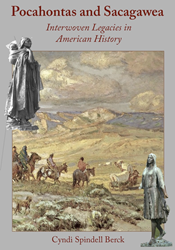 "This lively and informative study looks at key moments in American history from a very fresh angle." Joyce Appleby, Professor Emerita of History, University of California, Los Angeles.
(PRWEB) January 14, 2015
In her new book, Pocahontas and Sacagawea - Interwoven Legacies in American History, author Cyndi Spindell Berck weaves the stories of two Native American heroines with those of their friends, kin, and contemporaries, tracing a slice of American migration from the first permanent English settlement in Jamestown, Virginia, across the Appalachian Mountains, through the land of the Cherokees, to St. Louis, up the Missouri River, and finally to the Pacific. We meet John Smith, Daniel Boone, and William Clark on this journey. We also meet famous mountain man James Beckwourth, who was a friend of Sacagawea's son, and a Northern Paiute woman named Sarah Winnemucca, whose family gave its name to a town in Nevada.
Cloth Edition
ISBN: 978-0-9904018-5-8
Library of Congress control number: 2014948527
Size: 6" x 9"
Pages: 260
Images/Maps: 24 (Black & White)
Retail Price: $24.95
Release Dates: To be announced
Paperback Edition
ISBN: 978-0-9825922-9-8
Library of Congress control number: Pending
Size: 6" x 9"
Pages: 260
Images/Maps: 24 (Black & White)
Retail Price: $19.95
Release Date: To be announced
In the forthcoming English translation of Comments on the North American Travels of Le Rochefoucauld-Liancourt 1794-1798 Monsieur Daniel Vaugelade comments on the major themes in the duke's 1800 page journal. Among the items M. Vaugelade discusses are Le Rochefoucauld's descriptions of America's natural wonders, the plight of Indians and slaves, and the irrepressible passion of Americans for money and speculation. Le Rochefoucauld was from a family that tied closely to the reform movement that preceded the revolution in France. His interest in agricultural and economic reform distinguish his observations of other French travelers of that time. A democratic gentleman and philanthropist, Le Rochefoucauld returned to France when The Terror ended and became a leader in France's post-revolutionary social reconstruction.
Paperback Edition:
ISBN: 978-0-9909592-7-4
Library of Congress Control Number: 2014960177
Size: 5.5" x 8.5"
Pages: 468
Images: 8 (B & W)
Retail Price: $30.00
Release Date: To be announced
In his forthcoming book, George Washington's Mulatto Man - Who was Billy Lee?James Thompson has assembled a comprehensive body of reference material to substantiate his theory about "my mulatto man Billy." He develops through three phases of Washington's life with his mulatto man. Interpreting the written record in the context of frequently tumultuous events, Thompson shows that the relationship between the two men blossomed then cooled. The issues involved, Thompson explains, were bigger than both of these remarkable men and continue to haunt us today. The most fascinating aspect of the author's detailed analysis may be his detective work in identifying what Washington's mulatto man looked like. This astonishing revelation provides the ultimate proof of Thompson's astonishing theory.
Cloth Edition:
ISBN: 978-0-9909592-2-9
Library of Congress Control Number: 2013946747
Size: 6" x 9"
Pages: 240
Images: 25 (Color and Black & White)
Retail Price: $27.00
Release Date: To be announced
Ebook Editions:
EPUB ISBN: 978-0-9909592-0-5
PDF ISBN: 978-0-9909592-1-2
Mobipocket ISBN: 978-0-9909592-3-6
Release Date: To be announced
Tom Crocker's espionage thriller, The Hour of the Mistress is a fiction built around the assassin of a man the author knew. Mr. Crocker sets it in his own backyard - Lisbon, Portugal in the pivotal year of 1980. Portugal has just emerged from 50 years of dictatorship into a new and unstable democracy. The United States is struggling to reverse a string of military and foreign policy defeats. Its impotence is highlighted in a hostage crisis at the American Embassy in Iran, which it has dragged on for nearly a year. The political situation at home is about to become slippery. As the presidential campaigns of President Carter and Ronald Reagan are beginning, Iran and Iraq are preparing to go to war. In the crisp, incisive style that is his trademark, Mr. Crocker follows a young Foreign Service Officer Cosmo through a labyrinth in which bad men and beautiful women connive to trade firepower for political power.
Paperback Edition:
ISBN: 978-0-9909592-6-7
Library of Congress Control Number: 2014960184
Size: 5.5" x 8.5"
Pages: 330
Images: 1 (B & W)
Retail Price: $19.95
Release Date: To be announced
Commonwealth Books of Virginia is "Where History, Philosophy, and Art Meet", underscores the three-dimensional quality of the histories it publishes. It uses state-of-the-art technology to transform its printed titles into families of products including ebooks, audio books, audio/video programs, and mobile devise applications. It advertises its authors and products in a program that coordinates traditional public relations with social media outreach. Its print and e-book editions are carried into all channels of the book trade in a sophisticated national distribution program. Its audio, audio-video, and video products are available through Amazon, Audible, and iTunes, and their global partners.
For information about the book, call Commonwealth Books of Virginia at 703-307-7715.