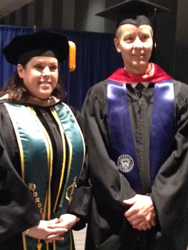 Columbus, OH (PRWEB) January 13, 2015
Franklin University, one of the leading educators of working adults in central Ohio, celebrated its 148th Commencement on Sunday, Jan. 11. Along with honoring the graduates, Franklin recognized Rodney Calloway and Dr. Debra Petrizzo from its faculty as recipients of the distinguished Robert L. Bailey Teaching Award.
Congratulations to this trimester's recipients: Rodney Calloway, Undergraduate Faculty and Dr. Debra Petrizzo, MBA Lead Faculty.
Rodney Calloway has served as an adjunct professor of mathematics at Franklin University since 2008 – teaching several levels of mathematics including Math 040, 150 and 215. His unique teaching style encourages students to retain mathematical principles through the use of various methods including signs, dances and even songs. Ultimately, he inspires his students to enjoy learning the principles of mathematics and to realize math's practical application in real-life situations. A high school mathematics teacher with nearly 30 years of experience, Calloway holds Bachelor of Arts degrees in both education and mathematics and a Master of Arts in Education Policy and Leadership from The Ohio State University.
Student Nomination:
"Rodney Calloway's Math 150 class is the reason that many students don't give up. For working adults, remembering high school math is a challenge and Rodney takes the time before and after class to work with students. He was engaging, easy to understand, helpful and kind. He was such a great teacher, that other students kept showing up for his classes instead of their own!"
Dr. Debra A. Petrizzo is lead faculty for the MBA program. Since joining Franklin University in 2009, Dr. Petrizzo has been involved in numerous institutional and academic development committees, crafted courses marketed to schools around the world, traveled internationally to teach within partner schools and successfully championed efforts to bring Sigma Beta Delta, an international honor society, to Franklin's campus. With foundations in industry, she combines her passion and experience in teaching, with an equal zest for the accounting profession. Dr. Petrizzo holds a Bachelor of Arts with majors in accounting and management, a Master of Business Administration, and a Doctor of Business Administration in accounting.
Student Nomination:
"Dr. Petrizzo brought significant real-world experience to our accounting class. She challenged our cohort to excel in a subject that can be difficult for many students. Her homework feedback and classroom discussions developed a real significance for accounting to me in my personal life and future workplace. She demanded a lot, but I also learned a lot, and will be stronger in my career as a result!"
About the Robert L. Bailey Teaching Award
Each trimester, two faculty members are honored with the Robert L. Bailey Teaching Award. Graduating students are asked to identify one undergraduate and one graduate faculty member who had the most significant influence on them throughout their educational experience at Franklin University. The award recognizes those who have challenged students intellectually and guided them in finding the significance of the course content as it relates to them both personally and professionally.
While more than 100 graduate and undergraduate faculty members are nominated each trimester – clearly showing the magnitude of interaction between students and faculty at Franklin University – the faculty members receiving the most nominations are awarded this honor.
These awards are funded through an endowment established by State Auto Insurance Companies in recognition of Robert L. Bailey, who served State Auto for 28 years in various positions, including President, CEO, and Chairman, until his retirement in 2000. Bailey is also a past Chair and a Trustee Emeritus of Franklin University's Board of Trustees.
About Franklin University
Founded in 1902, Franklin University is one of the leading and most experienced educators of adult students. Annually, nearly 10,000 students attend Franklin, through its Main Campus in downtown Columbus, Ohio, three Central Ohio locations, regional locations in Beavercreek, Ohio and Indianapolis, as well as at five co-locations across Ohio, in addition to online. Franklin offers more than 40 undergraduate and graduate programs (including the new Social Sciences and Entrepreneurship Bachelor of Science programs) and graduates more than 1,500 students annually. The University's MBA program is offered internationally through agreements with institutions in Europe and the Middle East. Further information regarding Franklin University can be found at http://www.franklin.edu.
Franklin University is accredited by The Higher Learning Commission (HLC), the International Assembly for Collegiate Business Education (IACBE), and the Commission on Collegiate Nursing Education (CCNE).