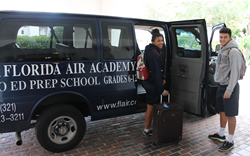 We can be sure our daughter is in safe hands
Melbourne, Fl. (PRWEB) January 12, 2015
It's 3:30 p.m. on Friday. A steady stream of parents load excited teens into waiting vehicles. The drivers of two shuttle buses, destined for Miami and Jacksonville, shepherd their charges into their seats. It's the weekend and it's time to go home---its five-day boarding.
An increasingly popular option for students and their parents, five-day boarding offers all the benefits of a boarding school education, with the knowledge that your child will be home for the weekend. Students spend the week at school, living and studying with their friends and benefiting from the 24 hour care offered. Come the weekend, they are free to join their families and relax in the comfort of their own home.
As parents, the stress of holding down a demanding job, climbing the corporate ladder, or erratic working hours can often lead to an agonizing dilemma---how to effectively meet the needs of our children. "Will they make the school bus after I leave for my breakfast conference? Who will take my daughter to her track meeting? Is my son doing his homework or playing on his computer?"
Parents ask themselves such questions each and every day.
It is also often the case that children take advantage of the situation, participating in risky behavior outside the home, neglecting homework and quitting sports teams. Family life suffers as school becomes a daily battle between the parent and child.
Reacting to the situations described, families are now embracing the concept of five-day boarding and enrolling their children in schools such as Florida Air Academy, (FAA) a Melbourne based boarding school for boys and girls in 6th through 12th grade.
At FAA students are under the 24 hour care of responsible adults, an evening 'Study Hall' for the completion of homework is mandatory, and discipline issues are dealt with in school. A registered nurse provides responsible management of health issues, and a comprehensive range of team sports and a variety of student clubs ensures students are kept busy.
Parents are freed from confrontation, guilt or worry during the school week. Weekends become "family time."
"My husband and I both have demanding careers, our hours are erratic and unpredictable," says an FAA parent. "Our daughter's welfare was a huge concern for us, and we worried about not fully meeting her needs."
"Following her enrollment in the five-day boarding program at FAA, we now spend quality time together at the weekends and during the week we can be sure she is in safe hands. I'd highly recommend it," she concluded.