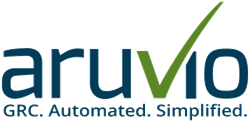 Businesses must ensure their anti-bribery & corruption compliance programs are genuinely strong and defensible.
Atlanta, Georgia (PRWEB) January 13, 2015
Aruvio, a leading Governance, Risk Management and Compliance (GRC) software-as-a-service provider, announced today that it will be presenting a complimentary, two-part educational webinar series on Thurs., Jan. 22 and Thurs., Jan. 29, both starting at 2:00 pm EST, on enforcing anti-bribery & corruption policies in the enterprise. Michael Rasmussen, an internationally recognized GRC pundit and the first industry expert to define and model the GRC market, will be the guest speaker for both parts.
Rajesh Unadkat, Aruvio Co-Founder and VP Products, said, "We are excited to have Michael Rasmussen from GRC 20/20 discuss his perspective on anti-bribery & corruption issues that enterprises should anticipate for 2015. Series participants will have a real opportunity to learn from the best in the business how to minimize, eliminate or overcome compliance challenges stemming from unethical employee, supplier or partner conduct."
"As businesses and other organizations become increasingly competitive domestically and internationally, their exposure to investigations, penalties and possible prosecution is likely to parallel in intensity," explained Mr. Rasmussen. "I look forward to preparing participants with what to look out for this year and what they must do to ensure their anti-bribery & corruption compliance programs are genuinely strong and defensible."
This event comes at a time when both the Securities & Exchange Commission and Department of Justice are demanding more rigorous compliance to Foreign Corrupt Practices Act legislation than ever before.
Online registration for the series is at http://aruvio.com/company/grc-webinars.
About Aruvio
Aruvio, a Virima Technologies company, is a leading provider of enhanced, cloud-based GRC solutions focused on automating GRC processes for numerous domains such as Enterprise IT, Finance, Operations and Legal. The company, headquartered in Atlanta, Georgia, builds and maintains a single, unified record system for compliance, quality, risks and incidents. Advanced reporting capabilities generate rapid performance data and accurate risk-related metrics for developing and managing compliance and quality processes. Learn more about Aruvio at http://aruvio.com or call 1-855-927-8846.
About GRC 20/20 Research, LLC (GRC 20/20)
GRC 20/20 provides clarity of insight into GRC solutions and strategies through objective market research, benchmarking, training and analysis. The research firm, headquartered in Waterford, WI, provides independent and objective insight into leading GRC practices and processes, including market dynamics and intelligence; risk, regulatory and technology trends; competitive landscapes; market sizing; expenditure priorities; and mergers and acquisitions. For more information about GRC 20/20, visit http://grc2020.com or call 1-262-332-9188.