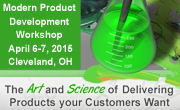 (PRWEB) January 12, 2015
On April 6-7, 2015, a workshop entitled "The Art and Science of Delivering Products Your Customers Want" will elaborate on the latest methodologies and tools for lean and modern product development.
Sessions at the downtown Cleveland workshop will include presentations and interactive engagement with peers and product experts. Participants will learn how to establish optimal product market fit, gain deep customer knowledge and go-to-market techniques that reach customers faster and more effectively. Learn valuable lessons from real life examples and leave with resources that can be used to provide immediate value.
Exact Market, a uniquely experienced marketing outfit, will share its tested industry knowledge that has led so many of its notable technology clients through the nuanced process of development and launch. The two-day workshop is designed for executives who are looking for a new competitive advantage and for product owners who need guidance in magnetizing their target customers.
"The Art and Science of Delivering Products Your Customers Want" will take place on April 6-7, 2015 in Cleveland Ohio.
For more information on the upcoming workshop, visit: http://exactmarket.com/events/
About Exact Market
Exact Market is an established Silicon Valley-based marketing company who provides innovative, comprehensive product management, product marketing, and successful marketing campaigns for every sized organization: from Fortune 100 companies to small businesses. For more information visit: http://www.exactmarket.com/.
Experts will relay in-depth concepts and techniques to successfully deliver products to market.