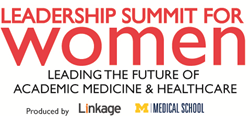 Burlington, MA (PRWEB) January 13, 2015
More women than men work in healthcare and academic medicine, yet men hold the majority of senior leadership roles. And that's what makes the upcoming Leadership Summit for Women: Leading the Future of Healthcare and Academic Medicine on March 30, 2015, in Ann Arbor, Michigan, an essential experience. The event has been created in partnership between the University of Michigan Medical School, a world-renowned leader in medical education, and Linkage, a global leadership development company. The Summit will provide the skills, networking, and dialogue that are critical to helping the acceleration of women into increased senior positions. Over 400 women are expected to attend.
"As with other industries, in Academic Medicine specifically and Healthcare specifically, women are not advancing into positions of senior leadership at the rate they are needed," says Susan Brady, Executive Vice President, Linkage's Advancing Women and Inclusion Practice.
"I can tell you from firsthand experience that this is a very real problem," adds Margaret Gyetko, M.D., Senior Associate Dean at the University of Michigan Medical School. "As a physician, and as a dean, I have been the only woman in the meeting or at my level for most of my career. I wish I had an opportunity early on to look up and see other women leading the way, to ask questions and learn from them. This gives women that chance. The summit will play a pivotal role in changing the look of leadership in both industries now and into the future."
Perfect for female faculty, physicians, nurse scientists, nurses, and administrators in mid-management or higher roles, Linkage's Leadership Summit for Women: Leading the Future of Healthcare and Academic Medicine is a one-day leadership development program that accelerates high-potential women leaders with the skills and knowledge they—and their organizations—need to succeed. Learn more at http://www.linkageinc.com/medicalsummit.
When the University of Michigan founded its medical school in 1850, it immediately assumed a leadership role in American academic medicine. They were the first medical school in the United States to recognize the importance of, and to build, a university hospital for physician instruction. The University of Michigan Medical School was one of the first major medical schools to admit female and minority students. In the 2015 U.S. News and World Report Graduate School listing, the University of Michigan Medical School is ranked as one of the top medical schools in the country for research and primary care.
Linkage works with leaders and leadership teams worldwide to build organizations that produce superior results. For over 25 years, we have delivered on this promise by strategically aligning leadership, talent, and culture within organizations globally. We do this by providing strategic consulting on leadership development and talent management topics and through our learning institutes, skill-building workshops, tailored assessment services, and executive coaching.