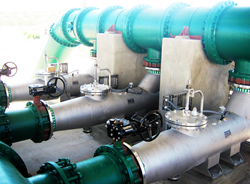 We see the trend of energy reduction and water reclamation accelerating in many areas throughout the USA
Coventry, RI (PRWEB) January 26, 2015
The City of Oak Harbor has awarded the contract to supply the UV disinfection equipment for the wastewater plant improvement to ETS-UV by Neptune Benson.
Oak Harbor is the largest city on Whidbey Island, in beautiful Island County, Washington. Named after the Garry Oak trees that define its skyline, it is linked to the mainland by the iconic Deception Pass Bridge.
The Neptune Benson UV systems have been designed using state of the art CFD (Computational Fluid Dynamics) and validated to meet the NWRI guidelines (2012). The systems incorporate energy saving 800 watt amalgam lamps. The system will be designed to disinfect a peak flow of 4.5MGD, with additional reactors being added in the future to accommodate plant expansions.
Jon McClean, President of ETS-UV by Neptune Benson stated " It is very pleasing to see the operational advantages of our designs recognized, and we look forward to working with the project team of Hoffman Construction Company and Carollo Engineers. "
Ken Rodi, Neptune Benson CEO commented "Our ETS-UV products and the Defender filter are driven by innovation and a very real desire to solve customer problems. We see the trend of energy reduction and water reclamation accelerating in many areas throughout the USA"
About Neptune Benson
Since 1956 Neptune Benson has been synonymous with water filtration and disinfection serving the aquatics, industrial and municipal markets. Featuring award-winning brands such as the Defender® regenerative media filter, ETS-UV ultraviolet disinfection system and Legacy™ Sand Filters. With advanced technology and a wealth of experience, Neptune Benson has the expertise to provide effective and cost efficient solutions for a broad range of industry needs. Neptune Benson also offers the Dominion™ butterfly valves, Guardian™ strainers, greendrive™VFD systems, as well as all Lawson Aquatics accessory products.
See our website for more information:
http://www.neptunebenson.com
http://www.ets-uv.com
http://www.lawsonaquatics.com