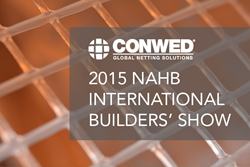 Minneapolis, Minnesota (PRWEB) January 12, 2015
Conwed, the leading plastic netting manufacturer in the world, will display its latest netting innovations at the 2015 NAHB International Builders' Show in Las Vegas, NV (South Hall - Booth #S2281 - January 20-22, 2015). Organized by the National Association of Home Builders (NAHB), the NAHB International Builders' Show is the largest annual light construction show in the world.
With the 2015 theme "All homes start here", this show attracts over 50,000 home builders, remodelers, architects, building material dealers and distributors and over 1,000 exhibiting companies serving the building and construction industry.
In building and construction applications, Conwed netting is used to protect, reinforce, support, contain, separate, laminate and bond different substrates and materials. Some frequently found products manufactured with Conwed netting include flooring, house wraps, insulation sheathing, radiant barriers, foil and film roll goods, rain screens, roofing underlayment, multipurpose surface protection composites, insulation netting and barrier solutions with the emblematic orange or black fence for construction sites.
"Our netting portfolio can be seamlessly integrated into commercial and residential building products for exterior and interior applications. It is the ideal reinforcement material to create strong yet lightweight composites used in the building and construction industry", said Ivan Soltero, Strategic Marketing Manager at Conwed.
For over 45 years, Conwed has been the partner of choice in product development for the building and construction industry. "Our engineering and R&D teams work closely with manufacturers, OEMs, converters, product designers and business development professionals to create new products with innovative functionalities at a competitive cost. We strive to help our customers develop their next product innovation", said Kent Hemminger, Business Development Manager at Conwed.
Usually hidden behind other materials and components in most building and construction products, Conwed netting provides essential performance and functionality. For a complete overview of Conwed netting in building and construction applications visit http://www.conwedplastics.com/building-construction
About CONWED
Conwed is the leading plastic netting manufacturer in the world. Conwed manufactures extruded, oriented and knitted netting with unique customization capabilities. Headquartered in Minneapolis, Minnesota, Conwed has five manufacturing locations on two continents and a global distribution network.