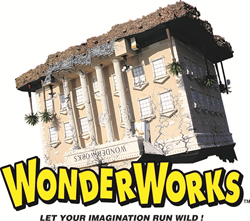 Syracuse, NY (PRWEB) January 12, 2015
WonderWorks is kicking off 2015 by inviting guests to escape the cold with a huge snow day special. Beginning January 12th, students and their families are welcomed to warm up inside WonderWorks Destiny for a special discounted price on any day a school is closed due to winter weather. Although the students are unable to attend school on snow days, WonderWorks provides many scientific exhibits that entertain while educating.
Director of Operations, Nicole Montgomery, was thrilled to announce the start of the snow day special. She said, "The weather can keep you confined and winter holidays are often costly, so we love to offer this discount as a way to get out of the house and have some fun that is affordable!"
During any official snow day, guests can enter the attraction at just $10.00 for a general admission ticket, as well as 50 percent off ropes course or laser tag tickets. The discounted rate will be exclusive to schools in Onondaga, Cayuga, Oswego, Oneida, Madison & Cortland Counties from Monday through Friday. The team firmly believes the cure for the winter blues lies inside the many educational activities inside WonderWorks Destiny!
To learn more about WonderWorks, visit: http://www.wonderworksonline.com/destiny/syracuse-weather/
###
WonderWorks is an amusement park for the mind combining education and entertainment in over 100 hands-on exhibits that will spark the imagination and challenge the mind. Interactive, educational and fun for all ages, those visiting the attraction will enjoy a variety of experiences including being blown away by 84 mile per hour hurricane-force winds, maneuvering the controls of a NASA spacecraft to land the shuttle, lying on a bed of 3,500 nails, piloting a fighter jet, riding a 360-degree virtual roller coaster and competing in a game of laser tag.